Both of us on the river!
last update: 06/12 @ 22:19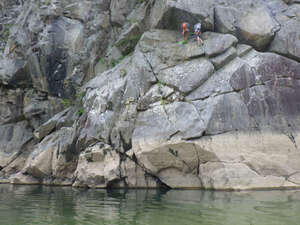 No, that's not us under the overhang…
Sarah has a busy start to summer: She was down in Decatur last week. Home for a few days around the weekend. And is off in Seattle this week.
All good travel: she was able to help out the newest additions to the Williams clan, Margot and Billie Mae. That gave Sarah a chance to hang out with really little babies (weeks old) and gave their parents and grandparents a little bit of a break.
And now she's getting to see Robert's new summer dorm (having just missed helping him move — up 5 flights of stairs — by about 48 hours).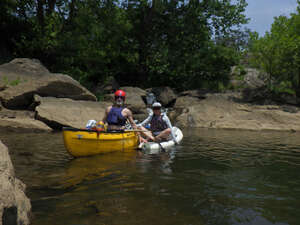 We took advantage of those couple days she was in Alexandria, with very nice weather, to get out on the river. Where we saw those two climbers in the gorge. New to me, they weren't going up or down the wall, they were crossing horizontally.
We saw our favorite heron and a few ducks and a lot of fishing cormorants.