---
Other parts of the site:
Search the blog:
Archive:
Pick a Random Month
Full Blog Archive
(This is all the blog posts in cronological order, rebuilt every night so may be up to 24 hours out of date. It's also a big file with lots of graphics; please be patient.)
May 27, 2023
Tradition continues
last update: 05/27 @ 12:33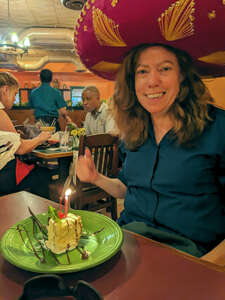 Well, it continues for us. Sarah and I celebrated her birthday dinner at Los Tios as we have for years now.
But, inquiring minds want to know what new tradition Robert will start. He's got plans lined up to stay in Seattle this summer so he'll have his birthday out there.
We'll learn more in a couple months…
(0) Comments -- permanent link
Edit this (owner only)
May 22, 2023
Fantastic Weather!
last update: 05/22 @ 17:29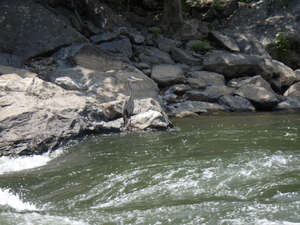 We took advantage of the glorious weather today and headed out to Angler's Inn. Sarah was feeling a little bit off, but also wondering about the trail that goes upstream.
So she went up on foot and I took the canoe up (a little ways).
I saw my great blue heron friend at the Virginia chute.
Clearly a master of disguise, he (or she) really does blend in to the rocks very well.
And had a lot of fun surfing across the Maryland chute.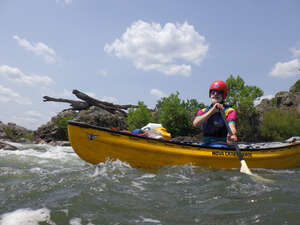 Excellent ways to enjoy a perfect, May day.
Let's hope for more like this!
(0) Comments -- permanent link
Edit this (owner only)
We found a giraffe!!!
last update: 05/22 @ 11:14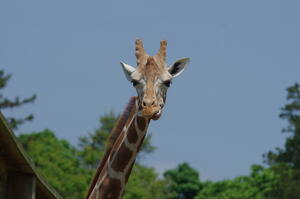 We were coming back from Taylor's graduation in New York and found this small zoo in northern Maryland with… a giraffe. So of course we stopped.
It was a fun way to recognize Sarah's birthday!
A few more photos in the vacations section.
(0) Comments -- permanent link
Edit this (owner only)
May 14, 2023
Mother's Day
last update: 05/14 @ 16:20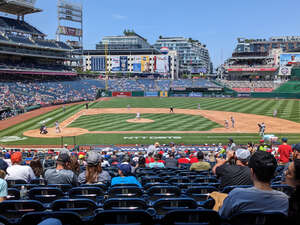 It's not the same with Robert off in Seattle.
He sent Sarah a very nice "Best Mom Ever" shirt in Mariner's colors that she wore when we went to see the game today.
For Sarah, it was a win-win: Nats vs. Mets. In the end the Nats won (which made us both happy).
Perfect day for it and nice time, but we still have some adjusting to do to Mother's Day with Robert on the other side of the country.
(0) Comments -- permanent link
Edit this (owner only)
May 07, 2023
Fun weekend part two
last update: 05/07 @ 18:04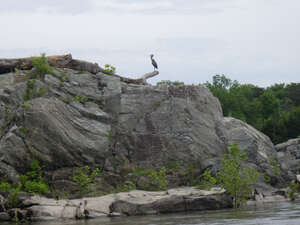 I got out on the Potomac at Angler's Inn today and checked in on my favorite heron. He (or she) seemed to be doing fine; enjoying the weather and not actually fishing.
The river was about 4.7 so a bit pushy but it was still fun to get and be pushed around a little bit.
(0) Comments -- permanent link
Edit this (owner only)
Fun weekend part one
last update: 05/07 @ 18:02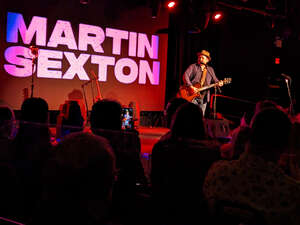 We went to Martin Sexton and KT Tunstal at the Birchmere Saturday night.
The Birchmere is always a fun place and the show did not disappoint. We sat across the table from a couple who took the train up from Richmond to see KT; it was their first time to the Birchmere.
It was fun to hear how great they thought Martin Sexton was. That was the reason we got tickets. He opened for Rickie Lee Jones and blew us away years ago.
(0) Comments -- permanent link
Edit this (owner only)
---
Add new entry (owner only)
The posts on this page will slowly roll off as new ones are added to the top. The "permanent link&quot links above will take you to one post's permanent address; that should not change or disappear. You can also build up a link to see any month's postings by adding the four digit year, a slash, the two digit month and a trailing slash to the the main www.kayakero.net/news/blosxom URL. Like this:
/news/blosxom/2004/08/. (You can go down to the day level if you like.)
Only the site owners can edit this page (and all attempts to do so are logged); however anyone is welcome to add a comment using the "comments" link below each posting.