Oct 30, 2011
Halloween Parade
last update: 10/30 @ 20:52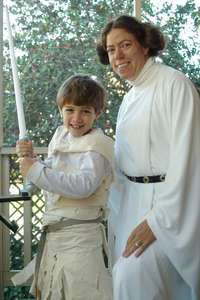 Sarah and Robert tried out their costumes today. Robert started out wanting to be be mummy — probably heavily influenced by the Walk like an Egyptian camp Sarah got him into at the Smithsonian last summer. His fascination with Egyptology has been pretty steady since then.
But when he found out Sarah was going as Princess Leia (his only clue had been, white and never scary), he decided he'd rather be Luke Skywalker. So, a couple quick snips, add a belt and the required light saber, and presto chango: Luke. It's hard to imagine a more dashing Luke and Leia pair (thought Robert said Sarah really needed a black pistol to complete the look).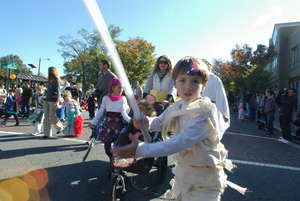 We headed down to the Del Ray Halloween Parade this afternoon (after the final costume adjustments). Considering the dusting of snow yesterday, the weather was great! Actually, the weather was great, period. Coming a day after a dusting of snow, the weather was Fantastic!
(0) Comments -- permanent link
Edit this (owner only)
Sting!!!
last update: 10/30 @ 10:26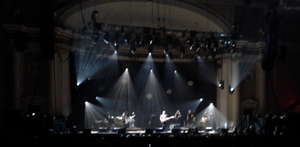 Sarah and I went to see Sting last night; it was a lot of fun and a great concert. I'd go back to DAR Constitution Hall. A big thank you Hank and Sally for letting Robert sleep over so we could enjoy dinner (El Chalan was tasty, new to us and convient), the concert and sleeping in this morning.
Now what to do this afternoon….
(0) Comments -- permanent link
Edit this (owner only)
Oct 23, 2011
TIV2
last update: 10/23 @ 10:46

Robert started the day re-watching the MythBusters episode of testing Tornado Intercept Vehicles (TIV) against really strong winds (the exhaust of a 747's jet engines). Then we went to the Air and Space Museum by Dulles to see the TIV2 in person and watch Tornado Alley about their efforts to drive into a the middle of a tornado.
The poster and web site for the movie are pretty over-produced, but it was fun and interesting. And it's cool to see in IMAX glory on the really big screen what it's like in the middle of a tornado. Actually seeing the car and talking with Marcus, the driver, was the highlight though. It turns out that to straighten the spike which were bent filming the MythBusters episode, they drove very slowly forward.
(0) Comments -- permanent link
Edit this (owner only)
Oct 17, 2011
Fruit of LoomŪ
last update: 10/17 @ 23:18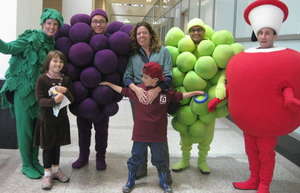 That's Sarah, Robert and Robert's classmate, Rowan (on the left) with the Fruit of the Loom players. They were visting the annual Trademark Expo at the Patent and Trademark office. Robert's big score, however, was some quality time stalking the Pink Panther, who was also there.
(0) Comments -- permanent link
Edit this (owner only)
Oct 16, 2011
Three Colors
last update: 10/16 @ 10:30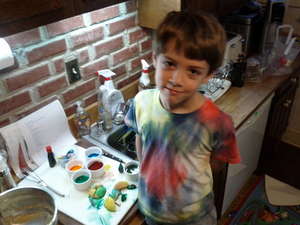 Aunt Susan says you have to get three colors in every meal; it's her trick for healthy eating. Unfortunately, she's onto to the whole food dye trick. Nevertheless, I like the way Robert's apple slices match his tie dyed shirt. (I really like the yellow — they look a lot like mango slices.)
And for the record, sauces and condiments (say ketchup) don't count as a color. Nor do deserts. Nor beverages. Nor shades of the same color. She's got most of the tricks covered.
(0) Comments -- permanent link
Edit this (owner only)
Oct 11, 2011
Living in the future…
last update: 10/11 @ 19:46

…I like this magic Google Talk video chat feature. We finally got it all working and now I can see and talk to the family back home while I'm here in Hotlanta.
We had some audio issues to start with but they have all been ironed out.
While I'm being a Google-fanboy: I like their Navigation app on my Nexus S. It seems every bit as good as our standalone GPS but it's more portable (and I think it automatically factors in traffic, but that might be wishful thinking). It's certainly helped me get around here quite handily.
(2) Comments -- permanent link
Edit this (owner only)
Oct 10, 2011
Field Trip
last update: 10/10 @ 20:41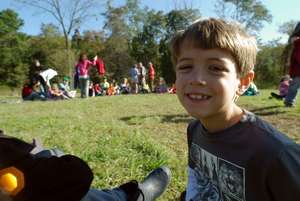 Robert and I came back from his class field trip to West Virginia on Wednesday. After two-and-a-half days, I was impressed with both his classmates and his teachers. I never knew you could make a working straw from red oak, and that white oak has crystals in it which block water or air so it won't work for straws.
And they played this cool "Oh Deer" game the last day; it was a great way to show the practical impact of too many deer and how wolves can help to improve the ecosystem by helping to balance that population out.
Lots of fun was had by all.
(0) Comments -- permanent link
Edit this (owner only)
---
Add new entry (owner only)