Nov 28, 2007
Thanksgiving trip
last update: 11/28 @ 16:55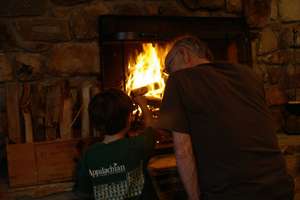 We got back late Monday from a trip to Seven Devils for Turkeyday with the whole Williams clan (well… Kate was out west this time). We had lots of good food to eat and plenty of time to relax and even managed to visit with Martha a bit in Richmond on our way home. Move photos in the vacations section.
(0) Comments -- permanent link
Edit this (owner only)
Nov 20, 2007
Exciting trip home
last update: 11/20 @ 21:28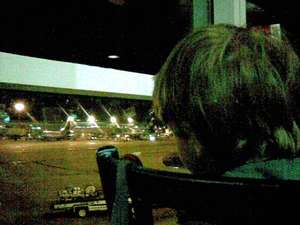 Robert and I stopped at the airport on the way home to see about getting dinner there — I know it's odd, but very convenient since the metro stops right there. First we had the fun of watching planes take off and land while we were waiting for dinner, then a firetruck and ambulance showed up across the tarmac (very hard to see in the dark, cellphone photo). The firetruck had its light on, the ambulance waited until they were leaving to turn on their lights. I guess someone was sick on the flight.
Then, just after we boarded a slightly delayed metro train for the last couple of stops, someone poked his head in and asked if there was a physician on the train before running on to the next car. I don't know if it was related at all to the plane incident — seems unlikely to me — but someone was being attended to on the platform. And, as our train pulled out of the station a firetruck and ambulance pulled up.
That was a lot of flashing lights. I hope all involved are OK and I'm glad we were just bystanders.
(0) Comments -- permanent link
Edit this (owner only)
Nov 19, 2007
School Photo
last update: 11/19 @ 15:04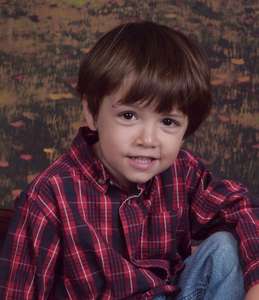 It's that time of year again: school photos. While the stitches have been out for a while, the "sword fighting" scar is still there over Robert's right eye. Important to note: he choose the shirt to match the plaid of the scarecrow in his class.
(0) Comments -- permanent link
Edit this (owner only)
Nov 16, 2007
Fall Fell
last update: 11/16 @ 10:52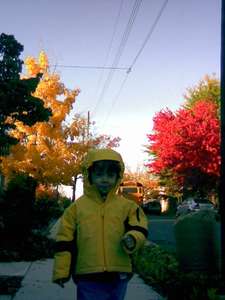 The trees are finally changing colors now. Wednesday (2 days ago) it was sunny and warm and I had the sun roof open while running errands. Thursday morning it was rainy and we watched the temperature drop from 64 to 55 while we were listening to the news on NPR before starting the day. The sun is back out today, but the temperatures are where they should be for the approach of Thanksgiving (aka Turkeyday).
(0) Comments -- permanent link
Edit this (owner only)
Nov 13, 2007
MMMMmmmm…
last update: 11/13 @ 20:36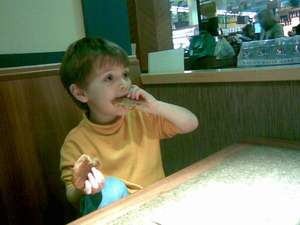 An nice cookie after a long day in school helps to round out the evening. OK, a nice BIG cookie might be going a just a little overboard; but it's so tasty!
(1) Comments -- permanent link
Edit this (owner only)
Nov 10, 2007
Big Machines…
last update: 11/10 @ 14:16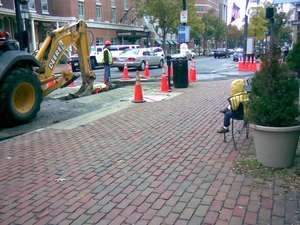 It was a cloudy, cool, dizzily morning but the drizzle finally let up about the time Robert was really ready to run around some — it was clearly time to get out of the house. We started out with a trip by the train station to see some trains, but there weren't any people waiting and no trains scheduled for a bit.
We saw a crane a couple blocks away and started to head that way when we were distracted by the cherry pickers on King Street. It's time to hang and test the Christmas lights, I think. So we headed down to check that out. But as we got closer, we saw the front loader/backhoe just a block further down King Street. They were putting a new yellow pipe into the trench in the middle of the road (conveniently in front of the muffin and bagel store).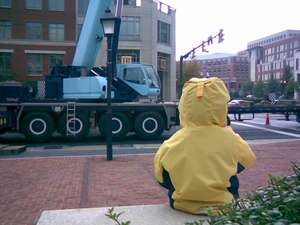 After they took a break to extend the pipe ("Big Daddy" had turned off his front loader/backhoe), we headed off in search of the crane. They were doing some work on the crane itself when we showed up, then they picked up a people basket and I thought that was an extravagant way to get on the roof or maybe clean the windows. But it turns out that the Embassy Suites is getting a new sign that faces Duke Street. That's what the crane was for — they needed to get some guys up there to drill some holes in the side of the building before attaching the new sign.

After all the excitement, it was clearly time for a nap…
(0) Comments -- permanent link
Edit this (owner only)
Nov 04, 2007
Quick Richmond visit
last update: 11/04 @ 17:11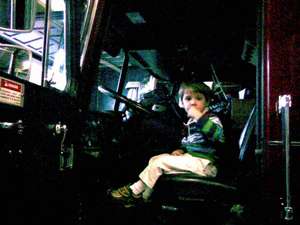 Impossible to tell in this cell phone photo, but Robert is sitting in Engine #1 of the Richmond Fire Department. That's the firehouse around the corner from Martha. We had dinner with her and Robert's paternal grandparents on Saturday (after the grands had dinner in Alexandria Friday night).
This is Robert's second visit to the firehouse — he may become a regular over time. Clearly, he is still a little worried about the sirens going off….
(1) Comments -- permanent link
Edit this (owner only)
---
Add new entry (owner only)