---
Other parts of the site:
Search the blog:
Archive:
Pick a Random Month
Full Blog Archive
(This is all the blog posts in cronological order, rebuilt every night so may be up to 24 hours out of date. It's also a big file with lots of graphics; please be patient.)
Apr 30, 2011
Busy Day
last update: 04/30 @ 20:36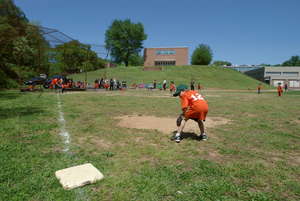 We started out the day with Sarah waking up pretty sick with some virusy thing. So Robert and I headed off to Lowes to spend his Christmas gift card on supplies to build a kitty condo. Yes we have our eyes on two kittens, "Pinker" and "Panzer," who are just a bit young to bring home yet.
We expect to pick them up in week or two and keep them in the guest quarters while Zip Drive adjusts to the idea of new kittens in the house. The theory is with two, they will play with each other and not bother Zip Drive too much.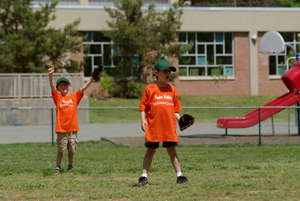 After we did our lumber shopping, we headed over to Ramsey Elemetary School for the first Tee Ball game of the season. This year Robert is on the Timber Rattlers. And it's very impressive to me how much better he's gotten at the game with some practice and growing. This game was a bit confusing because the Lookouts also have orange jerseys.

Robert had a couple good hits; played a good first base. And caught a ball bouncing to his short stop position and had a great throw back to first from there. (They rotate positions each inning.) Also, extra bonus, they used the jersey number for batting order so Robert was last at bat twice and the last batter gets a home run to let all the kids get back home.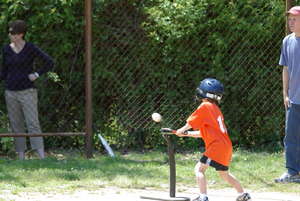 After the game we headed down GW parkway to Fort Hunt and a birthday party. The weather, obviously, was perfect for a day spent outside. It's too bad Sarah was feeling under the weather, I'm sure she would have had as much fun as we did.
(0) Comments -- permanent link
Edit this (owner only)
Apr 26, 2011
Easter Sunday
last update: 04/26 @ 22:29

We spent Easter weekend helping out at the camp in West Virginia. Robert seems to have made a friends with Iris (she's just a little older than he is). The weather was great — it only rained at night; actually, it was a lot warmer than we expected in the mountains.
(0) Comments -- permanent link
Edit this (owner only)
Apr 17, 2011
Fort Washington
last update: 04/17 @ 21:18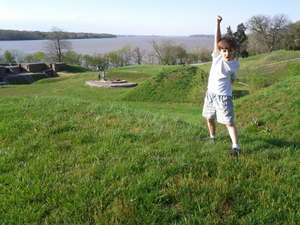 The Nationals game was great and the weather was so nice we decided to check out Fort Washington on the way home (metro was doing track work and we were meeting folks so we opted to drive to the game). We've seen Fort Washington from Mount Vernon several times and keep talking about going. Robert saw the sign and asked if we could check it out.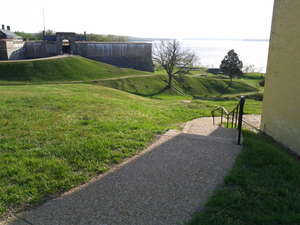 We've been plotting a canoe trip to storm the castle (well, fort) for a while now. But we'll wait until after the flood waters and storm chop are down a bit. It's a very pretty place, made even more so by the spectacular weather today.

Who knew there was a drawbridge so close to DC? (I mean other than the Woodrow Wilson bridge for I95…)
(0) Comments -- permanent link
Edit this (owner only)
Let's Go Nats!!!
last update: 04/17 @ 21:12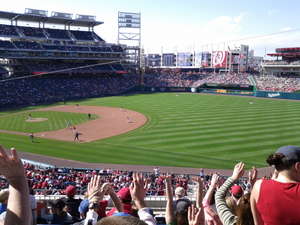 We had tickets for Robert to bring a friend or two to the Nationals game on Saturday but the game was called on account of tornado and flood watches. There were some wild storms but the most exiciting weather was south and east of here. It would not have been a fun day at the park unless our seats were well sheltered.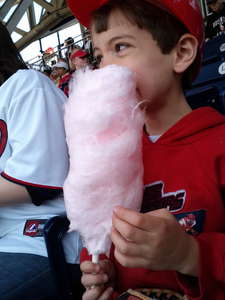 Today on the other hand was a great day. Eleanor (from Robert's class joined us along with her older brother and parents. And we even ran into Kathy at the game. The weather was perfect, the cotton candy was candy-ish and the Nationals won — we got to see three home runs for the home team!

GO NATS!!!
(0) Comments -- permanent link
Edit this (owner only)
Apr 15, 2011
Taxday
last update: 04/15 @ 16:10

Our annual taxday letter is in mail. You can also get a sneak peak here; of course, if your reading this, you probably follow this blog and won't find much news in the letter.
(0) Comments -- permanent link
Edit this (owner only)
Apr 12, 2011
He Shoots!
last update: 04/12 @ 19:49

New basketball hoop. Best, purchase, evah! -SZap
(0) Comments -- permanent link
Edit this (owner only)
---
Add new entry (owner only)
The posts on this page will slowly roll off as new ones are added to the top. The "permanent link&quot links above will take you to one post's permanent address; that should not change or disappear. You can also build up a link to see any month's postings by adding the four digit year, a slash, the two digit month and a trailing slash to the the main www.kayakero.net/news/blosxom URL. Like this:
/news/blosxom/2004/08/. (You can go down to the day level if you like.)
Only the site owners can edit this page (and all attempts to do so are logged); however anyone is welcome to add a comment using the "comments" link below each posting.