Dec 30, 2007
If you have to ask…
last update: 12/30 @ 13:31 …check out the explanation at the end of the Christmas posting. You may want to peek at the other Christmas photos as well.
(0) Comments -- permanent link
Edit this (owner only)
Dec 25, 2007
Taking a break
last update: 12/25 @ 23:41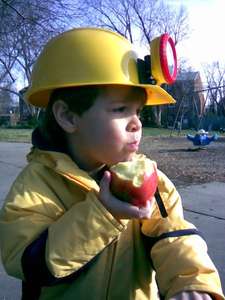 Robert and I took a little break in the afternoon after a morning of serious present unwrapping. We had a great time with Harry and Elle this morning looking at all the fun new toys and books and clothes and whatnot. Then it was time for a sunshine break at the blue park. Robert is sporting one of his presents: a construction hat with headlamp! Very cool. Thanks Audry (and parents).
After an apple snack and some time on the playground it was back to the house for more substantial food: the traditional Zapolsky Christmas goose. Best enjoyed with family and friends (and a nice bottle of red).
More photos to come later in the week.
(0) Comments -- permanent link
Edit this (owner only)
Dec 20, 2007
The tradition continues…
last update: 12/20 @ 19:42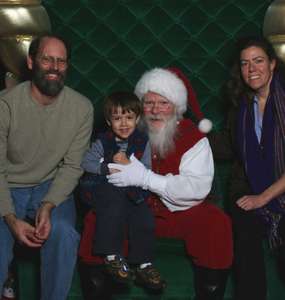 Just as in the last few years, we went by our local mall for a photo with Santa. The sequence 2004, 2005, and 2006 proves he's growing — to anyone it's not already obvious to.
This year Robert really talked to Santa (if a bit shyly). He answered the what do you want for Christmas questions and asked Santa where he lived. "I live in the North Pole," Santa replied. "There's only one way to go, south, so I can't get lost."
(1) Comments -- permanent link
Edit this (owner only)
Dec 13, 2007
Last class
last update: 12/13 @ 10:56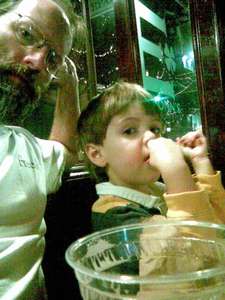 Sarah's last class of the semester was this week. Robert and I celebrated with fish and chips at our local Dublin Chipper, Eamonn's. He was being so polite and cooperative that we even walked by Whole Foods for a dessert cookie on the way home.
(0) Comments -- permanent link
Edit this (owner only)
Dec 12, 2007
Christmas Tree hunting…
last update: 12/12 @ 11:14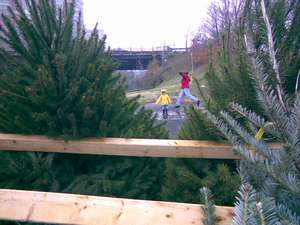 We went Christmas tree hunting last weekend. It was a bit rainy so Robert and Sarah played in and over a puddle while I was in line with our chosen tree. There are a couple more photos in Robert's section.
(0) Comments -- permanent link
Edit this (owner only)
Dec 09, 2007
Surprise!!!
last update: 12/09 @ 14:55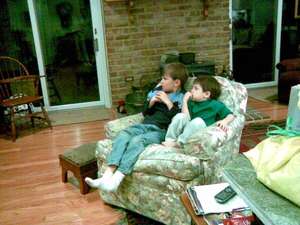 Sarah and Robert (with help from Sally and Hank) arranged a surprise birthday party for me last night at Hank and Sally's house. It was great fun! Bob and Celia came (William is off at college) as did Ken and Nancy (and Natalie and Wyatt).
It was perfect, while the adults were talking, Natalie and Wyatt and Robert entertained themselves (or were entertained by Sponge Bob Square Pants). It was lots of fun to catch up with who is doing what. And the dinner was tasty too.
Here is Wyatt and Robert sharing a chair watching the tube. Of course, they didn't just watch TV, they also baked cookies and then decorated them. I think they also had great time.
(0) Comments -- permanent link
Edit this (owner only)
Dec 06, 2007
Playing Hooky…
last update: 12/06 @ 14:35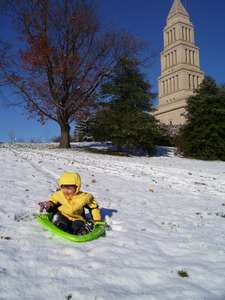 Today was a perfect day to play hooky: new powdery snow — just enough for sledding — and bright blue skies. Robert and I took advantage of it. There are two more photos in his section.
(1) Comments -- permanent link
Edit this (owner only)
Let it snow…..
last update: 12/06 @ 13:28

So, Robert and I didn't get home early from daycare. Instead, we stopped to look at how EVERYTHING was different when covered in snow.
It took close to a half hour to get from the King Street Metro to home but it was worth every second to watch as Robert recreated "The Snowy Day."
First we walked in the snow with our toes pointed out, crunch crunch crunch… and we walked with our toes pointed in, … then we made tracks with a stick. Mommy and Robert were tied in the snowflake tasting contest. We arrived home to a delightful surprise… for the first time in 3.3 years David had a fire going in our fire place. So few perfect moments in life… best to savor them when we can and share them when we may.
(0) Comments -- permanent link
Edit this (owner only)
---
Add new entry (owner only)