---
Other parts of the site:
Search the blog:
Archive:
Pick a Random Month
Full Blog Archive
(This is all the blog posts in cronological order, rebuilt every night so may be up to 24 hours out of date. It's also a big file with lots of graphics; please be patient.)
Sep 12, 2013
Faux cupcakes
last update: 09/12 @ 18:29

Depending on who you believe, Sarah and I didn't get enough notice, didn't pay enough attention to the notice or just didn't really understand that Robert needed, really, REALLY needed to bring two twin cupcakes to school today.
There was lots of unhappiness at the realization that we don't have a stash of cupcakes to call on should the need arise. The unhappiness did not abate in light of the explanation that stopping to get cupcakes on the way to school was not a realistic option.
The unhappiness did start to fade at the idea of building faux cupcakes from items at hand: pancakes (it has cake in the name, right?), carefully cut to fill cupcake wrappers, icing (because it never goes bad, right?) and sprinkles — who doesn't like sprinkles?
What will the report from school hold? How were these cupcakes received? How many kids were able to communicate the importance of cupcakes to their clueless parents? Inquiring minds want to know….
(0) Comments -- permanent link
Edit this (owner only)
Sep 09, 2013
Kickin' back
last update: 09/09 @ 21:35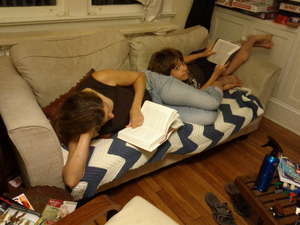 Chillin' on the couch with a good book or two. Looks like we may need a bigger couch to keep this up…
(0) Comments -- permanent link
Edit this (owner only)
Sep 07, 2013
Another beautiful day
last update: 09/07 @ 21:23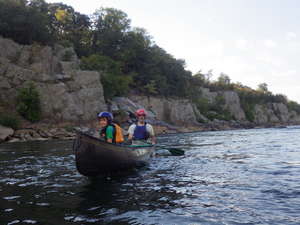 A very social day on the river today; not surprising as it was such perfect weather. First we ran into a colleague of Sarah's — not quite on the river: he was climbing the canyon wall. That was on our way upstream.
On the way downstream, we ran into Robert's art teacher from school. I would have thought we might run into her sooner (realizing Robert just started his 6th year at the school after starting H…I…J…K).
The weather was great even if the water was low.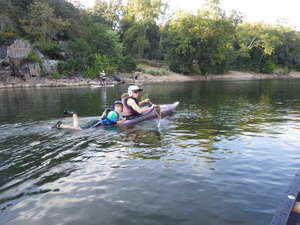 And Robert showed that he's an equal opportunity water craft aficionado. Most of the time choosing to be my bowman in the canoe, but winding up on the back deck of Sarah's kayak. (Note the paddle boards in the background.)
(0) Comments -- permanent link
Edit this (owner only)
Sep 03, 2013
First Day Back at School
last update: 09/03 @ 20:01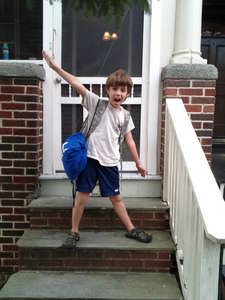 Robert went back to school today. This year, like last year, no rain coat. YEAH!!! No raincoat in JK either — note that this year he did not get followed around for stacks of photos — though Sarah did sneak one or two (you'll have to check out her facebook page for those).
(0) Comments -- permanent link
Edit this (owner only)
Sep 01, 2013
Excitement on the Potomac
last update: 09/01 @ 17:25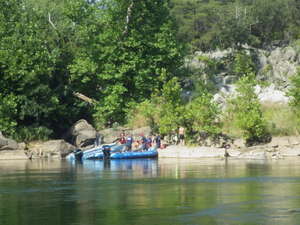 Robert was feeling a little under the weather so I was without my bowman this afternoon on the Potomac. I only had to drag the boat over Wet Bottom Chute to get from Angler's Inn to Rocky Island. It was low: 3.03, but I still managed a little surfing. And there were no other boats there while I was there.
On the way back I was buzzed by the USPS helicopter and was worried there had been another river accident. As I got further downstream, where he helicopter was circling, I saw the Cabin John Fire Department rafts on the shore. It looked like a hiker took a tumble and they were evacuating by river.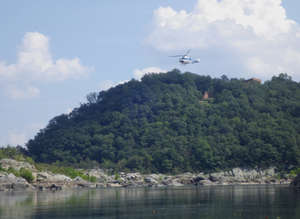 The helicopter was low enough for me to start to feel the downdraft when it flew over. I'm guessing it was keeping an eye on the evacuation to make sure it all went smoothly — which it seemed to do.
(0) Comments -- permanent link
Edit this (owner only)
---
Add new entry (owner only)
The posts on this page will slowly roll off as new ones are added to the top. The "permanent link&quot links above will take you to one post's permanent address; that should not change or disappear. You can also build up a link to see any month's postings by adding the four digit year, a slash, the two digit month and a trailing slash to the the main www.kayakero.net/news/blosxom URL. Like this:
/news/blosxom/2004/08/. (You can go down to the day level if you like.)
Only the site owners can edit this page (and all attempts to do so are logged); however anyone is welcome to add a comment using the "comments" link below each posting.