Sledding
last update: 01/24 @ 17:27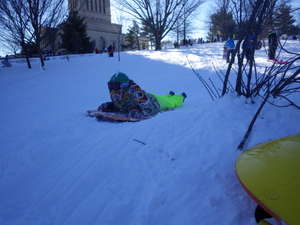 Sarah and Robert went over to the Masonic Memorial this morning to check the slopes.
Then we all went over this afternoon.
As usual, it was great fun.
We even ran into neighbors so we could trade off sleds and have a Sunset Drive race.
Check out the dragon spikes Robert has been sporting all day…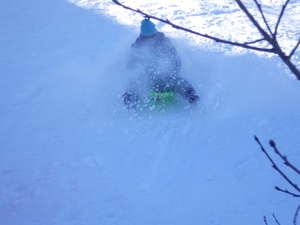 In my opinion, the tube won for most fun (largely because it is totally out of control.
The longer orange slide may be the fastest.
And our old standby green sled wins for best control — which is still not much.
That's Sarah putting on the breaks to avoid the tree I was hiding behind.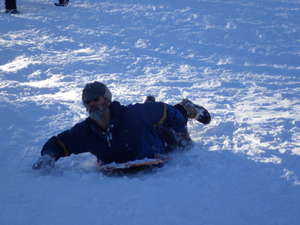 School has been called for tomorrow, we're waiting to see what Sarah and I are supposed to do. We walked home on a side street that has not seen a plow this year — those folks are not getting out anytime soon.
That's my snow swimming style…