Aug 25, 2012
Finally…
last update: 08/25 @ 22:58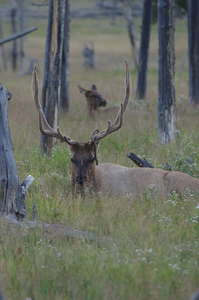 … several hundred photos later, I've posted the better photos from our whirlwind west coast trip.
We flew out to Seattle the 9th, attended a great wedding (CONGRATULATIONS David Z. and Lynn) in the Methow Valley, drove to Yellowstone, then all around Yellowstone, down to the Tetons, back via Craters of the Moon, the Columbia River Gorge and Mt. St. Helens.
We put about 2300 miles on the poor rental car.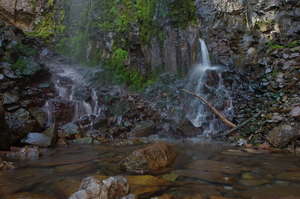 Robert held up like a champ. Putting up with hours driving to pretty much the middle of nowhere, hopping out, looking around, driving more. Getting somewhere, hiking, looking around, then driving on to the next spot.

We really did see a lot (like these elk between Yellowstone and Grand Teton and this cool waterfall behind our Yellowstone cabin).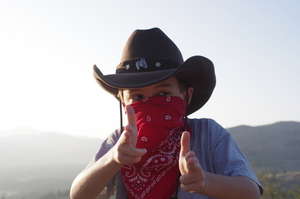 And Robert absorbed a lot too. He got into the western motif (obviously), asked great questions of the rangers we ran into, had two horseback rides, saw some astounding natural scenery — and some that's man made — and enjoyed hanging with his cousins.

Many more photos in the travel section.
(0) Comments -- permanent link
Edit this (owner only)
Aug 23, 2012
Lost Falls Trail
last update: 08/23 @ 23:20

This is at the end (almost) of a short trail behind Roosevelt Lodge to a very nice waterfall. There will be more photos later (I promise); this is today's preview as I sort through what to include in our vacation section. Stay tuned…
(0) Comments -- permanent link
Edit this (owner only)
Aug 22, 2012
West Coast Whirlwind
last update: 08/22 @ 19:10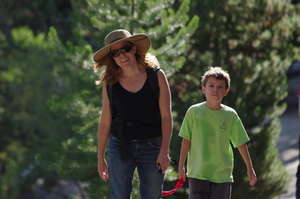 More photos to come, but here's a taste of our whirlwind trip out West for the Hubbard - Zapolsky wedding. We flew out, picked up a car and drove to Sun Mountain Lodge (for the pre-wedding parties and wedding). Then headed to Yellowstone for 4 nights (this is a picture coming up the trail from the Brink of the Lower Falls of the Yellowstone).
The wedding was the social highlight; lots of good people coming together to celebrate in a lovely place with plenty of fun things to do.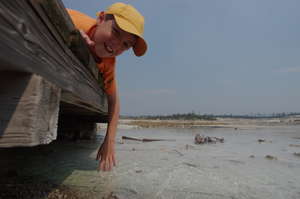 But since we were more or less in the neighborhood… we managed to visit all the highlights in Yellowstone in our 4 days there (this is Norris Geyser Basin) with a lot of driving around between spots (and just the driving there is beautiful). We did not get stuck in any any large bearjams (or other wildlife jams), but we did see plenty of wildlife.

And, of course, spectacular scenery as well. Though many of the distant views were a bit hazy due to all the western forest fires.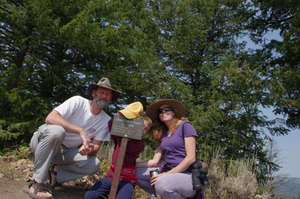 After Yellowstone, we drove down to Grand Teton and spent two nights there (this is the top of the Grand View trail close to Teton Lake Lodge). The weather was hot and dry most of the time we were there but it always cooled off at night.

And from the Tetons, we drove across southern Idaho (Via Craters of the Moon), northern Oregon and stopped at Mount Saint Helens on our way back to Seattle and the plane home
(0) Comments -- permanent link
Edit this (owner only)
Aug 08, 2012

last update: 08/08 @ 17:26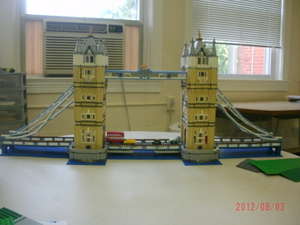 Robert took his camera to Lego Camp last week. They did some free form building and some serious sets.
Robert said there were about 6 people working on the Tower Bridge over the course of the week. It looks pretty cool to me.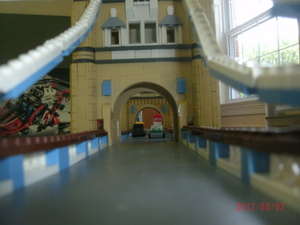 And I really love this shot looking down the road bed!

The bridge is a draw bridge and they had a boat going through it for a while.

The whole day was not devoted to Legos, they had a pool and other fun things to do as well. But the Legos were a big hit.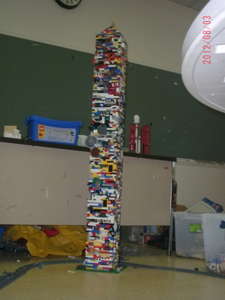 Now this… I'm not so sure about — clearly it's really big (and reminds me a bit of the Borg ship, but rectangular rather than square). I wonder about the counselors…
(0) Comments -- permanent link
Edit this (owner only)
Aug 01, 2012
Camp Weekend
last update: 08/01 @ 22:28

Last weekend we let Hank and Sally take care of Robert and Sarah and I headed out to his school's West Virginia campus / camp for a kid-free weekend there. Normally we go help close the place down in the fall and open it up the spring — both a lot of work. Or we go with Robert's class (a bit less work).
This weekend we were pampered — no dishes to do, no gutters to rake out, no gardens to hoe, no tables and chairs to stack or unstack, no bunk houses to clean out.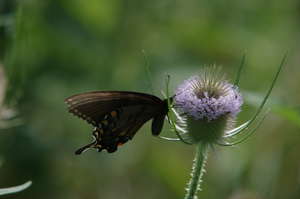 Instead we got to wander the grounds, check out the butterflies, birds, salamanders and deer. Hike up to the bald and have it to ourselves, swim in the pond. Eat tasty meals (alcohol served with dinner — no alcohol when their are kids around). And enjoy the wisdom of the camp counselors.

One of the chores over the opening weekend this spring was to make sure the trail to the canopy walk was clear. Sarah and I signed up for that — I thought it was a trail that might overlook the canopy.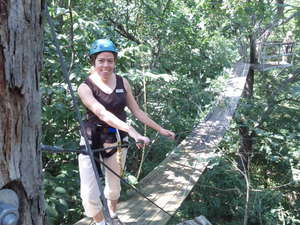 It's a 60 foot climb up into the trees. (Two of the counselors got us up and down and made sure were we clipped in at all times.) We collected leaves and discovered that the higher up leaves are thicker than those lower down (from the same tree or tree species).
(0) Comments -- permanent link
Edit this (owner only)
---
Add new entry (owner only)