Back from the Beach
last update: 07/01 @ 14:17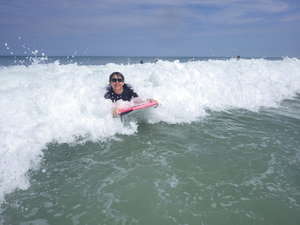 We're back from Assateague Island beach camping. This trip was most remarkable for our various health issues. I got something stuck in my throat (again) and we ended up going to three medical facilities on the way down to find one that could help. The strip mall, walk-in doctors office directed us to immediate care and they then pointed us to the hospital. It's good to live where there is good medical care that easily available.
That delayed our Wednesday arrival until pretty late. The upside was, after setting up our tents, we went looking for food and ended up at a very nice dockside restaurant in Ocean City (proving it really is about as close as it looks at night). The Marina Deck treated us very well, and they won the best crab cake award for the trip.
Thursday was a great day on the beach; not too hot, nice waves, pretty much perfect.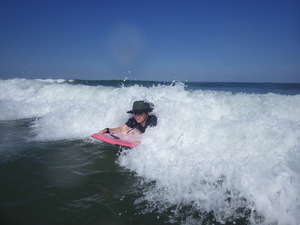 Friday, we headed to Wallops Island to check out NASA rocket launch facility there. We'd love to be up close for a rocket launch, but we do get to see the big ones from our Masonic Temple lookout tower here at home.
The visitor center was cool, figuratively and literally. It was worth the trip and fun to check out for rocket enthusiasts (Robert is reading Ignition at the moment, so a perfect fit.
Back at the beach Friday after lunch (the worst crab cakes of the trip) was overly exciting. We ended up with a rip tide right in front of our sun shade hangout. I think there were four different water rescues that afternoon: one of our party, one that Sarah helped out with on her paddle board and two other times for folks who didn't see or recognize the red flag the lifeguards put up.
Saturday, Robert pulled a muscle in his lower back and was having too much trouble moving to be able to enjoy the water. He did get some quality sand time laying under the sun shade.
We decided to get him home to the AC rather than push our time much longer. And it was getting really hot, but at least there was a bit of a breeze.
This was the 29th annual trip for the group we were invited to join when Robert was going into first grade; our eighth year (we missed 2013 for our Grand Canyon trip). Rumor has it next year, the big Three Oh, will be the last. That will be a shame — but it is a huge amount of work for the organizers.