---
Other parts of the site:
Search the blog:
Archive:
Pick a Random Month
Full Blog Archive
(This is all the blog posts in cronological order, rebuilt every night so may be up to 24 hours out of date. It's also a big file with lots of graphics; please be patient.)
Dec 18, 2015
Happy B-day
last update: 12/18 @ 23:30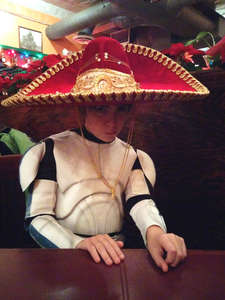 I'm back in Alexandria for a couple days. I was able to attend the winter Festival of Lights at Robert's school and then we saw Star Wars followed by a belated birthday dinner for me at our fav, Los Tios. I did wear the birthday sombrero, but it really goes with Robert in his Clone Trooper outfit…

He's got a pretty mean looking stern face these days.
(0) Comments -- permanent link
Edit this (owner only)
Dec 16, 2015
SMom
last update: 12/16 @ 09:13

SMom is doing better than we all expected and she seems to have rallied in the last week. However, she is bed-bound and under hospice care; here is Steve reading one of the Cat Who… books to her. I'm in Decatur to help out and keep her company.
(1) Comments -- permanent link
Edit this (owner only)
Dec 12, 2015
Decatur
last update: 12/12 @ 13:55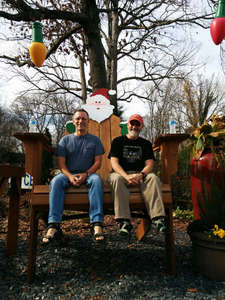 I'm hanging out in Decatur for bit with Steve and Loren. We're pretty sure the weather is a bad sign, but we're willing to make the best of it while we can.
(2) Comments -- permanent link
Edit this (owner only)
---
Add new entry (owner only)
The posts on this page will slowly roll off as new ones are added to the top. The "permanent link&quot links above will take you to one post's permanent address; that should not change or disappear. You can also build up a link to see any month's postings by adding the four digit year, a slash, the two digit month and a trailing slash to the the main www.kayakero.net/news/blosxom URL. Like this:
/news/blosxom/2004/08/. (You can go down to the day level if you like.)
Only the site owners can edit this page (and all attempts to do so are logged); however anyone is welcome to add a comment using the "comments" link below each posting.