Jul 26, 2014
Birthday week winding down
last update: 07/26 @ 18:58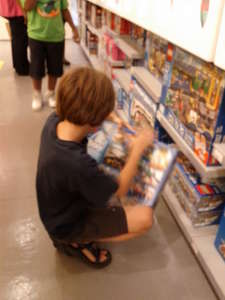 Can you wind down with a bang?
As Robert's birthday week of celebrations comes to a close, we took the new Silver Line metro out to Tyson's Corner.
If you don't know, Tyson's Corner is the home of the Lego Store! New this year, Robert brought his own money and a Lego gift card. He was very careful in selecting what he wanted to get. Fortunately, the selection there is impressive.
For those keeping track, he still gravitates to Star Wars sets, but he did a good job looking over the whole store.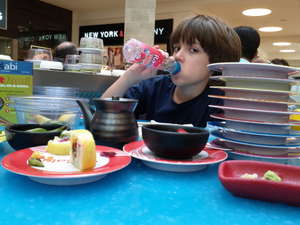 Of course you can't have a trip to the Lego Store without hitting up Wasabi, the Sushi Go-Round just around the corner from the Lego Store.

It's tempting to say those are all Robert's plates, but he did have some help making that stack. It's both tasty and fun (and a bit crowded, especially if you want a table seat).

It seemed clear to us that the new metro line is a good thing for Tyson's: there were a lot of folks there with the Silver Line pennants they were giving out at the new stations today.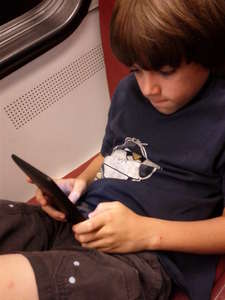 And check out Robert showing off another birthday pressie: his Kindle Paperwhite (thank you Seattlites, and Ian — if you're no longer counting yourself a Seattlite.)

We successfully delivered two Wimpy Kid books to it today — and Robert promptly read them both. We'll have to look for something more substantial and get him all wired up to the Alexandria Library's eBook collection (sorry Amazon).
(0) Comments -- permanent link
Edit this (owner only)
Jul 22, 2014
Sucess
last update: 07/22 @ 21:28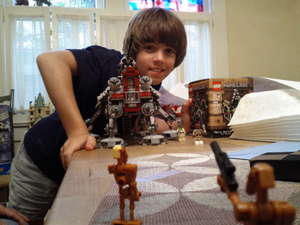 AT-TE built and we made it to dinner! An excellent birthday all around!
The Minecraft Lego set is for tomorrow, Robert says.
(0) Comments -- permanent link
Edit this (owner only)
Birthday Bash continues
last update: 07/22 @ 16:10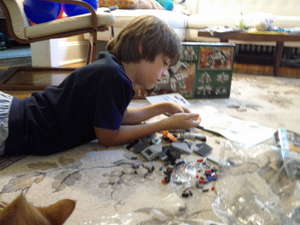 One of many gifts Robert received over the last couple days: Lego AT-TE from the Star Wars realm. Will we make it to our birthday dinner tonight? Will he finish it this afternoon or be willing to put it down? Inquiring minds want to know, but only time will tell…
(1) Comments -- permanent link
Edit this (owner only)
Jul 20, 2014
Birthday Bash Begins
last update: 07/20 @ 16:11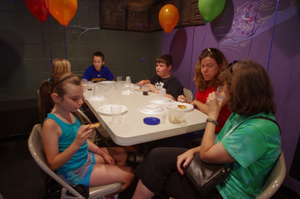 We had so much fun last year that we went back to UltraZone for more laser tag birthday battles today.
With our experience from last year, we did better and our team won two and came in second once.
More importantly, Robert, the kids and the adults (at least those that entered the arena) all had a good time.
We had (as has become traditional) plenty to nosh on before and after the games.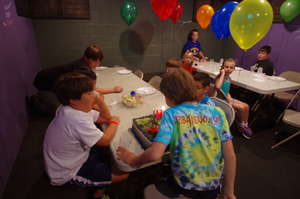 We're going to add a note to the calendar for next year that getting the cake large enough for a really cool scene drawn in icing, is not necessary.

This year's cake theme, courtesy of the Smithsonian Dinosaurs and Dioramas camp, was dinosaurs. We didn't really realize it was sized for dinosaurs until we picked it up. Fortunately, we have freezer…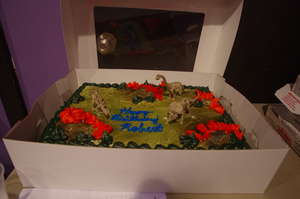 (0) Comments -- permanent link
Edit this (owner only)
Adding to the Fleet
last update: 07/20 @ 00:29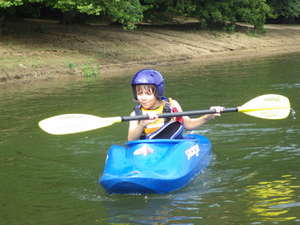 Sarah has had her eye on getting Robert a boat for a while now. One of the very nice folks we run into at Assateague happened to have a kids boats that his kids and relations have outgrown.
And the most cool thing: His name is Robert. So we picked up a boat from Robert G. for our Robert B. Z. W.
Of course we had to try it out…
Robert has been in Sarah's boat a few times so it was not completely new to him. But this boat is a much better size for him (and way too small for Sarah or I).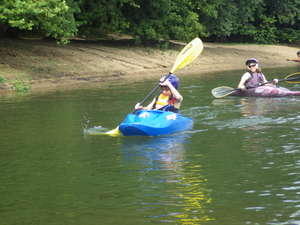 We took it out to Angler's Inn and paddled around a bit.

And yes, we made him wet exit first before we did anything else.

With the super big cockpit, the end of the sprayskirt is a long way in front of him. That's making it a bit hard for him to pull the sprayskirt off. We'll need to work on that before he paddles anything where he needs a sparyskirt. And yes, rolling lessons are clearly in his future.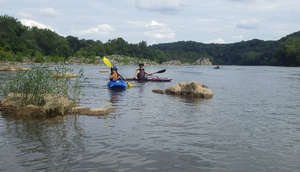 And I'm sure we'll have time to work on stroke mechanics as well. This beats my entrance to boating by several years. I wonder if South Eastern is still around and we should work on getting him a job guiding there in a few years…
(0) Comments -- permanent link
Edit this (owner only)
Jul 13, 2014
The Rocket Launch…
last update: 07/13 @ 13:32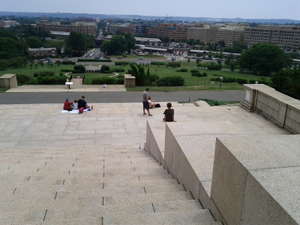 …was a dud for us — too much haze. We were not the only ones hoping to see the rocket taking off from Wallops Island this afternoon. We'll have to watch the rerun on NASA TV
(0) Comments -- permanent link
Edit this (owner only)
Jul 12, 2014
Amazing Maze
last update: 07/12 @ 16:15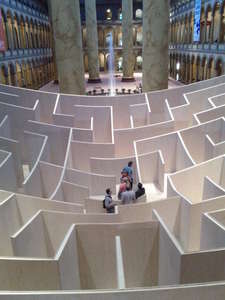 Robert spent last week at Building Museum camp, and on Thursday they were open late with the new maze set up on the floor and inviting visitors.
The BBQ and beer from Hill Country was also very inviting.
Robert and a couple friends from camp hung out pretty much with the run of the place while the adults chatted. It was a great, relaxing evening.
And, did I mention they have a really cool maze?
Robert says he went through sixty times Thursday night. I think he might be exagerating, but not by much. He had the path nailed and after numerous rounds of minotaur tag in the maze, I think he had all the twists and turns memorized.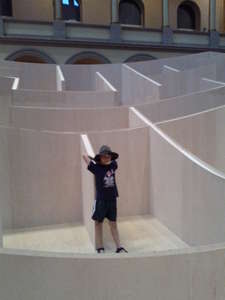 I'm kind of upset it's only going to be around for a while — but I guess it's not quite as fun as the mini-golf they had last summer. And we still have time to stop in and play again. Sarah wants to host a wine and cheese party there — hiding the cheese in the maze, of course.
(0) Comments -- permanent link
Edit this (owner only)
Baltimore Science Musuem
last update: 07/12 @ 16:03

Sarah found a great deal on membership to the Baltimore Science Museum, and it turns out the membership is reciprocal in lots of other science centers.
So we headed up last Sunday at the end of our week-long break. We had a great time (as we have in the past). Robert enjoyed the tornado machine — it's easy to disrupt the air flow and break it down, then watch it form back up again.
And they always seem to do fun things in the entryway. When were there, they had a pitching machine you could use to launch foam noodles (like from the pool) off the second floor balcony and into the entryway.
It was lots of fun (and good exercise: run down the stairs collect 3 — catch them if you can — run back up the stairs and launch them off).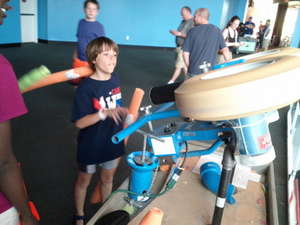 And after a week of dinosaur camp, the dino exhibit was lots of fun…

And part of the dinosaur exhibit was a computer program to choose and color a dinosaur. In a sign of the times, rather than dealing with any printing hassles and paperwaste, you can email it to yourself…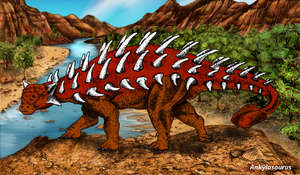 (0) Comments -- permanent link
Edit this (owner only)
Jul 05, 2014
Adventure Park
last update: 07/05 @ 12:04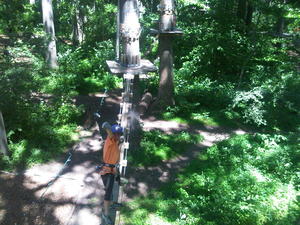 Sarah and Robert picked up Kenna and headed to The Adventure Park yesterday. More photos in the vacations section.
(0) Comments -- permanent link
Edit this (owner only)
Jul 04, 2014
Back Early from Assateague
last update: 07/04 @ 13:13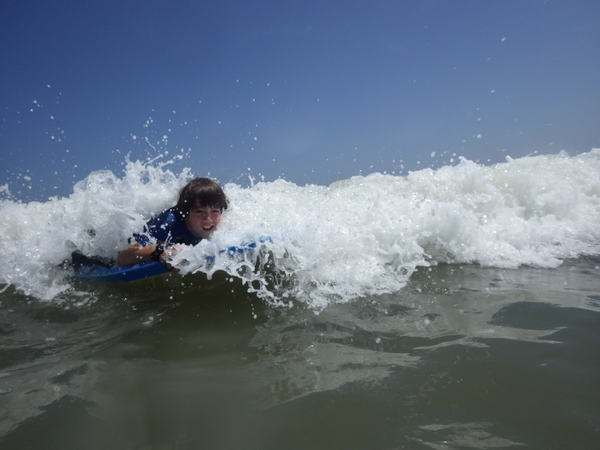 Our fourth trip to Assateague was cut short by our decision not to be on the island as Hurricane Arthur passed by. We did (clearly) have fun in the time we were there. More photos in the vacations sections.
(0) Comments -- permanent link
Edit this (owner only)
---
Add new entry (owner only)