Back to News and Updates
Other parts of the site:
Search the blog:
Archive:
Full Blog Archive
(This is all the blog posts in cronological order, rebuilt every night so may be up to 24 hours out of date. It's also a big file with lots of graphics; please be patient.)
Tue, 22 Jul 2014
Sucess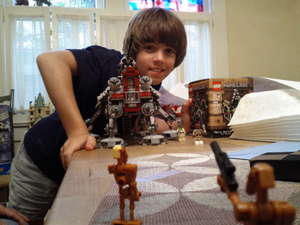 AT-TE built and we made it to dinner! An excellent birthday all around!
The Minecraft Lego set is for tomorrow, Robert says.
comments...
trackback (explanation)
TrackBack ping me at:
https://www.kayakero.net/news/blosxom/file_140606614415856.trackback
Back to News and Updates