Sep 28, 2004
Whole lot of growing.
last update: 09/28 @ 21:23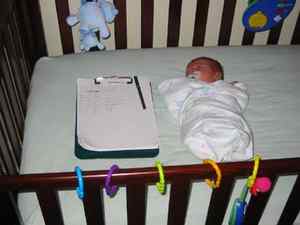 O.K., so officially the babe is still under ten pounds (though unofficially he weighed in at 10lbs 9 oz today.) He is still growing a little bit as evidenced by these pictures.
Left is July and right (and below) is today.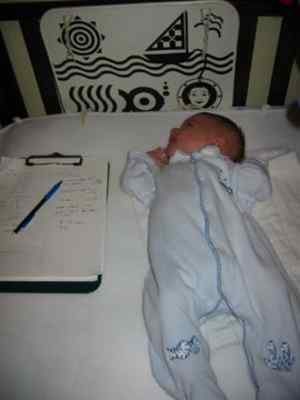 (0) Comments -- permanent link
Edit this (owner only)
Make Mom Come Runnin
last update: 09/28 @ 21:23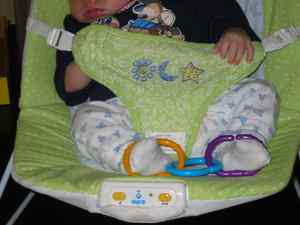 So, one thing that makes a mom come running is to hear your husband call "Do you think baby manacles are a good idea?"
Note the cool multicolored quasi-beeners-link things chaining Robert's legs together.
(2) Comments -- permanent link
Edit this (owner only)
Sep 22, 2004
Change in the weather
last update: 09/22 @ 21:53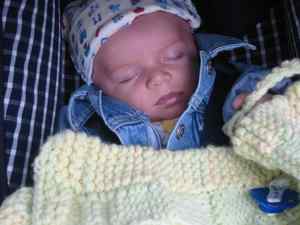 We'll miss Aunt Susan. Not only did she fly up from Atlanta and babysit for our first outing without Robert, she also came up with the perfect way to mount the alphabet letters Janek gave Robert. And she took care of it (Sarah and I could have done it, but probably not until he was in high school). And she joined us for a walk down to the waterfront on a fall-like day (note the jean jacket) and tour of the torpedo factory where we ran into…. Auntie Lisa of Max and Zip fame. Lisa now has space in the Torpedo Factory.
(0) Comments -- permanent link
Edit this (owner only)
Sep 18, 2004
First Photo Shoot!!!
last update: 09/18 @ 22:26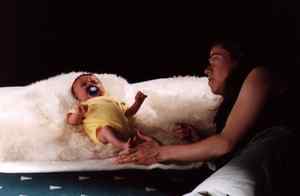 Robert had his first photo shoot last weekend and the results are in. Check out his September Photo Shoot page.
Now I'm in the market for a digital camera that I can connect to the stobes. Waiting for the prints to come back from the lab (and wondering if the lighting was going to be anything like what I expected) seems kind of old fashioned these days.
(0) Comments -- permanent link
Edit this (owner only)
First post-Robert Date
last update: 09/18 @ 19:28

We did go out last night to celebrate Ed's birthday. He had a table at the Birchmere for Sam Bush and we all had a great time. The company was great, and Ed had a chance to catch up with Sarah (who is hanging at home with Robert for the time being). The band was outstanding. A little bit of a lot of musical genres all done well. Sarah put it best, "I never would have thought anyone could pull off Jimmy Hendrix on the mandolin." Of course it was the "MandoBlaster" electric mandolin, not your run of the mill acoustic variety, and the rest of the band was great. As usual, the Brichmere was a stellar location for live music.
(0) Comments -- permanent link
Edit this (owner only)
Sep 16, 2004
First Babysitter
last update: 09/16 @ 23:44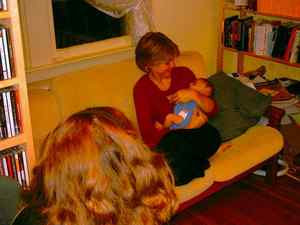 Our first babysitter flew in from Atlanta (just in time to avoid Ivan, the current hurricane). Aunt Susan came up to meet Robert and it just happens that she can babysit while Sarah and I are off at a collegues birthday party. We'll see if we both actually go and can leave Robert at home (in Susan's very capable hands) — it will be the first time he's not had a parent around in his whole life…
(1) Comments -- permanent link
Edit this (owner only)
Sep 13, 2004
Robert's Social Day
last update: 09/13 @ 18:05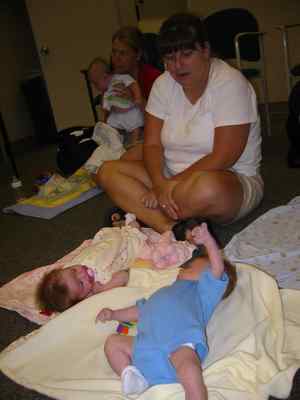 What a good idea. Shaw sent me Annie Dillard's book 'Operating Instructions' about her son's first year and in the acknowledgments she thanks the people who made her keep a journal of her son's first year. Sounds like a plan.
Yesterday, I got together with the Thursday coffee klatch folks for a walk. We met at Jen's (Manley) over on Mt. Vernon avenue across from the middle school and chatted for a bit and then went for a stroll.
Reality check of the day; school had just let out and we walked through a passel of middle school girls who asked to see our babies. They made the appropriate sounds (oh how cute, etc.), but as we walked away, one of the dominant girls started crowing about when she has HER baby, "that baby is gonna be Decked Out! Really dressed, all the time." Jean (Benz, -she's the one we teased about how she should have named her daughter 'mercedes') and I looked at each other and stopped because we had just been talking about whether or not there would be siblings for our guys (probably not) and how hard it is to be an older mother, balancing career etc. but we stopped cold at the girl's conversation. I guess it's no easier heading to be a teen parent.
Other moments, we stopped for ice cream near the river and Jen borrowed a bottle off of Lindsey, with one of those slider -burper things. While Clayton was eating she pushed on it; "is this how it works" only to look down and see milk foaming out of her baby's mouth. Jean noticed rounching on her daughter's sundress, joked about it enhancing clevage and kidded about having a hoochie baby, while Robert really got his charm on by smiling, laughing and cooing at Miss Lindsey. A good time was had by all and I started secretly wishing that David could get himself fired when I go back to work so he could hang out with Robert for 26 weeks or so courtesey of unemployment insurance.
(0) Comments -- permanent link
Edit this (owner only)
September 11, 2004
last update: 09/13 @ 11:52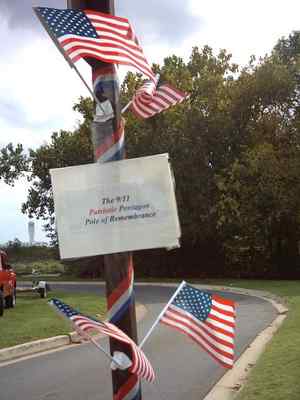 Robert and I got to join Sarah on her annual walk from DC to Alexandria. This year there were small flags taped to the 14th Street Bridge. And the weather was spectacular again (much like 2001). With Robert in his stroller (I really should have taken a photo of that), we stuck an umbrella on the front of the stroller to shade him from the sun. We were both expecting some form of security to approach us as we wheeled our odd little stroller with the umbrella covering it up to National Airport. But we didn't get any second looks.
I do like the tradition but hate the cause of it. I really wish I didn't feel like it was inevitable that terrorism would strike so close and so powerfully. My wish for Robert (overly optimistic, I fear) is that he sees the end of terrorism as we've come to know it.
(0) Comments -- permanent link
Edit this (owner only)
Sep 08, 2004
Picture of the Day
last update: 09/08 @ 18:54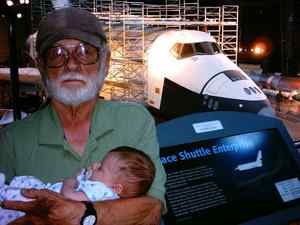 Robert and his granddad inspecting the restoration work on the Space Shuttle Enterprise at new Air and Space museum.
There a several other photos of the trip in the new, September part two section of Robert's web site. The building is almost as impressive as what all it houses.
(0) Comments -- permanent link
Edit this (owner only)
Sep 06, 2004
Could be a tie…
last update: 09/06 @ 23:34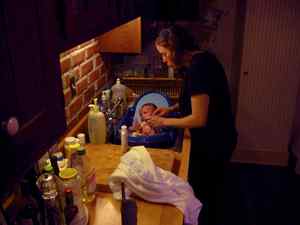 A close second for picture of the day, Robert getting his post outing bath.
Based on his parents, it should come a little surprise that Robert does not much mind his bath (at least at this age). He seems to really be enamored of the water (as long as it's not too cold — and Sarah does a stellar job of making sure the water temperature is to his liking).
(0) Comments -- permanent link
Edit this (owner only)
Picture of the Day
last update: 09/06 @ 17:43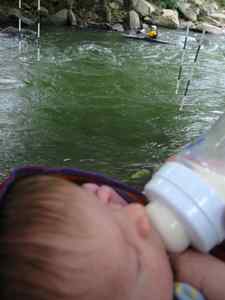 Robert enjoying a snack while his mom enjoys the great Labor Day weather. Sarah's postpartum roll is solid and she really enjoyed a chance to get out on the river.
Robert also seems to really enjoy a chance get outside and enjoy the pre-fall weather.
There are a couple more photos of both in Robert's September Photo section.
(0) Comments -- permanent link
Edit this (owner only)
Sep 04, 2004
Robert's latest guest
last update: 09/04 @ 14:01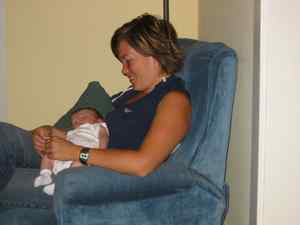 Michelle, formerly of AARP, formerly of Australia, futurely of New York City, stopped by to say hi to Robert.
Also, for those not interested only in Robert photos, there's another one of Max in the September photos section. I guess I really do need to stop putting every new photo up in Robert's section…
(0) Comments -- permanent link
Edit this (owner only)
One more…
last update: 09/04 @ 00:26

One more bouncy seat photo (it needed some red eye work) now in the September photo section.
(0) Comments -- permanent link
Edit this (owner only)
Sep 02, 2004
Not always sleeping
last update: 09/02 @ 15:43

Just so no one gets the wrong idea… Robert does not actaully sleep the whole time. Sometimes he is perfectly happy to be the center of his brother's attention. (Did I mention I have to get out of habits ingrained by Max and Zip these last years — like calling them brothers and adding Robert to the family pride.)
For those without a scorecard, that's Zip looking on…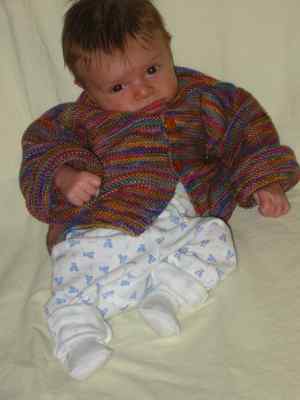 And here's…… Robert. In his very cool sweater from the Leaths — neighbor's in New Jersey, I think — Sarah may correct this.

The weather may not be quite right for it yet, but it really is very nice.

We'll report back the fit of the sweater when the weather turns cooler.

On the other hand, we've been to a couple resteraunts with Robert lately and they tend to be cold, maybe the sweater will become an integral part of the diaper bag…
(0) Comments -- permanent link
Edit this (owner only)
Sep 01, 2004
New Photos
last update: 09/01 @ 16:48

I've just added a couple photos Rob Allison took when he and Doug visited last weekend; they are in the second set of August photos, and I have an extra RBZW photo (in addition to the one below) in the new September photo page. (That's the same page the photo below links to.)
(0) Comments -- permanent link
Edit this (owner only)
After a rough night….
last update: 09/01 @ 16:21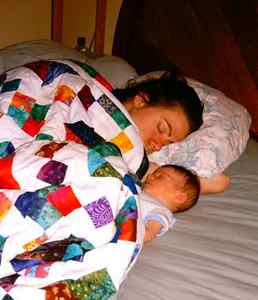 Robert and Sarah didn't get the best night's sleep last night and Sarah was trying to comfort him a bit this morning before I had to wake them up for a doctor's appointment on my way off to work.
Aren't they too cute?
Normally Robert is in the bassinet by our bed, but sometimes, if he's being fussy, he just needs to be a little closer to a parent (I really have to break the habit aquired after years with Max and Zip of referring to Sarah and I as the humans in the family).
(0) Comments -- permanent link
Edit this (owner only)
---
Add new entry (owner only)