Sun, 18 Oct 2020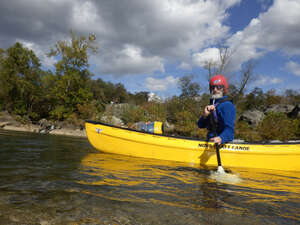 A nice, cool day on the river.
Beautiful weather, a little cool and the water is starting to cool off (I was a bit more aggressive playing in one wave than maybe I should have been).
If you squint just right at the little creek coming into the Potomac in the background, you can see the Heron hanging out there looking for dinner.
No rope swings in the gorge, and I likely would not have been tempted even if there were…
---
edit this blog...
HTML hints
Back to the Blog