Back to News and Updates
Other parts of the site:
Search the blog:
Archive:
Pick a Random Month
Full Blog Archive
(This is all the blog posts in cronological order, rebuilt every night so may be up to 24 hours out of date. It's also a big file with lots of graphics; please be patient.)
Sun, 16 May 2021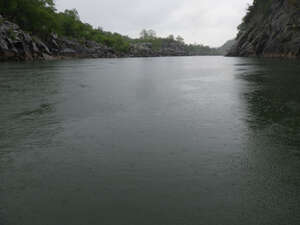 A little rainy this afternoon on the river.
But I went up the gorge to Wet Bottom Chute were I ran into the Fauquier County swift water rescue team practicing.
Interesting to me, should not be a surprise though, that Virginia county enters the river on the Virginia side. I'm used to the Cabin John Volunteers and Montgomery County fire departments entering at Angler's Inn on the Maryland side.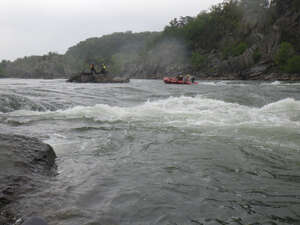 While it was a little gray and rainy; it's still a very pretty spot. And especially so for a spot that close to home and DC.
comments...
trackback (explanation)
TrackBack ping me at:
https://www.kayakero.net/news/blosxom/file_16212229116448.trackback
Back to News and Updates