Mon, 14 Oct 2019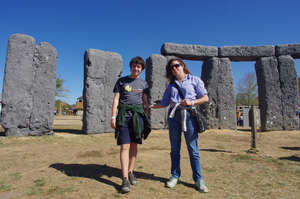 We took a quick trip across the pond to check out Stonehenge since we missed it on our England / Scotland trip this summer.
Actually, it's Foamhenge as erected at Cox Farm for their fall fair craziness. It makes as least as much sense there as the aliens who crash-landed in the hay ride field.
It was a pretty crazy warm fall day.
And for the record, Sarah won the slide race.
---
edit this blog...
HTML hints
Back to the Blog