Sun, 25 Sep 2022
We paid attention to the weather forecast and headed to the river yesterday to avoid the possible rain and thunderstorms today.
With the quick shift to fall weather over the last day or two, it was much cooler than it has been but still a very nice day.
We opted to paddle up the gorge rather than just stay around Angler's Inn this time.
Always good to see how pretty a spot that is.
Also clear from these photos: the low, fall water level.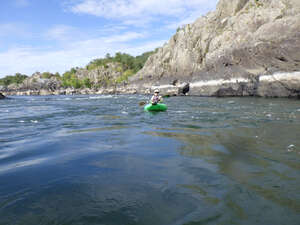 2.85 is not unusually low for this time of year.
But clearly (looking at the bathtub rings) lower than the year round average.
We took the easy way out and carried the boats over some of the rocks to get up to what was left of Rocky Island before turning back around to go with the flow.
It was a really nice way to spend the first fall weekend day of the year.
We're looking forward to more (before it gets too cold).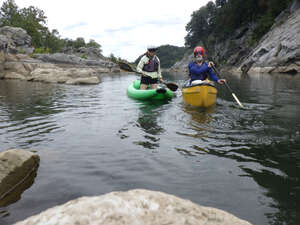 ---
edit this blog...
HTML hints
Back to the Blog