Back to News and Updates
Other parts of the site:
Search the blog:
Archive:
Pick a Random Month
Full Blog Archive
(This is all the blog posts in cronological order, rebuilt every night so may be up to 24 hours out of date. It's also a big file with lots of graphics; please be patient.)
Tue, 11 Jan 2022
We had a great heavy, big (for us) snowstorm last week.
Unfortunately, it came on the heals of the holiday break.
So while I walked in to the (closed) office, Robert got to get out the sleds and enjoy the snow.
He also took on the lion's share of clearing the sidewalk and car.
I wish I'd been able to join in the sledding, but "Closed" has a new meaning in the Telework age. In the federal space, weather events can close access to the buildings, but you're still expected to telework if you can.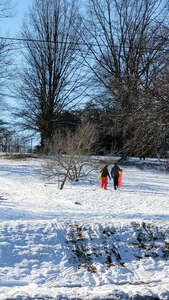 While I could, I'm more productive in the office and had that option (even though we were closed). So, after two weeks off, I went in and missed on the sledding. (I did get to join him and Ian on a hill in Seattle while we were there.)
Sarah, who took that photo, split her time between telework and some snow enjoyment.
Between that snow, and a refreeze and second, smaller snow, Robert's holiday break grew by a week — but he did have some on-line classes to pay attention to.
He's happy to be back in school, in person now. And I expect, Will, who joined him on the slopes, agrees.
comments...
trackback (explanation)
TrackBack ping me at:
https://www.kayakero.net/news/blosxom/file_164194700521321.trackback
Back to News and Updates