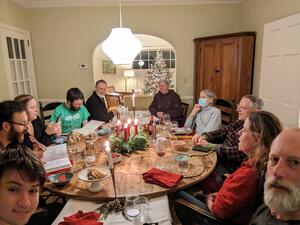 We drove down to Decatur for a Williams Family Christmas this year. The huge cold front, bomb-cyclone was headed our way and we managed to be on the road in the rain at the front edge of the artic blast for the trip down. It was slow, but stayed above freezing for the trip.
The next day was a different matter. It didn't get much over 20.
Sarah made her traditional Christmas Eve lasagna which we all enjoyed. Left to right that's: Robert, Alex, Sally, Aaron, Steve, Helen, Susan (getting over the flu, not Covid), Loren, Sarah and me.
Christmas day started a bit later this year with no really young ones and Sally and Alex coming over from their house. The relaxed start for the day was very nice; we admired the beautiful tree and stockings on the mantle (before lighting the fire) and drank our various hot beverages.
And then passed out stockings, lots of chocolate — hence waiting on lighting the fire. Then Alex handed out the presents; he happened to end up sitting closest to the tree. There were serveral cooking-themed gifts, some UW themed gifts and some high-tech gifts.
But perhaps most unusual, least expected, a new kitchen trash can to replace the malfunctioning can in Loren and Susan's kitchen.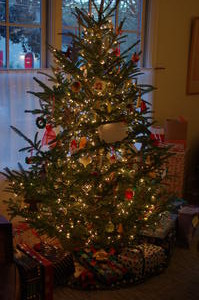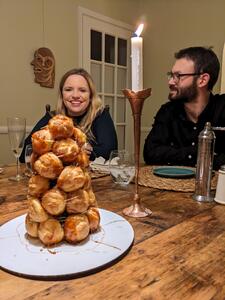 Well... Also unusual, unexpected and intially confusing: Susan gave Loren a keyboard bag to carry his keyboard in. It's made by a company more focused on guitar cases so the logo was of a guitar. Clearly it works well. It looks like a large sized keyboard to me.
Sally and Alex, new doctors both, were working a lot around the holiday so we were glad to be able to spend time with them. Sally said she'd bake a cake for Christmas dinner but wasn't sure what. When she and Alex came back over, she had a mini-croquembouche because, she said, she didn't have to think about it :)
It was, of course, perfect.