Back to News and Updates
Other parts of the site:
Search the blog:
Archive:
Pick a Random Month
Full Blog Archive
(This is all the blog posts in cronological order, rebuilt every night so may be up to 24 hours out of date. It's also a big file with lots of graphics; please be patient.)
Sat, 02 Jul 2022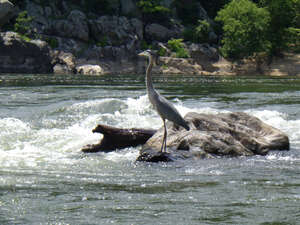 … and I saw this guy. I'm going to believe it's the same Heron we've seen before just upstream of Angler's Inn. This time, he was hanging out at the Maryland Chute, which has a new to me log stuck on that rock. They are saying there may be heavy thunderstorms this afternoon so that log may move along later today.
comments...
trackback (explanation)
TrackBack ping me at:
https://www.kayakero.net/news/blosxom/file_16567993663856.trackback
Back to News and Updates