Back to News and Updates
Other parts of the site:
Search the blog:
Archive:
Pick a Random Month
Full Blog Archive
(This is all the blog posts in cronological order, rebuilt every night so may be up to 24 hours out of date. It's also a big file with lots of graphics; please be patient.)
Sat, 26 Nov 2022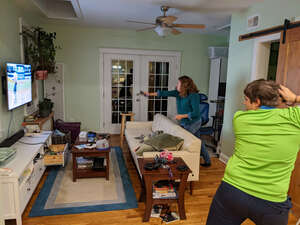 While the Xbox went to Seattle (in case there is time between studying to play), the Wii stayed here.
That gave Robert and friends something to do when they came by last night after watching the World Cup, playing pool and seeing Black Panther.
Robert was still jazzed after they left and challenged Sarah to a game. You'll have to ask him how it turned out…
comments...
trackback (explanation)
TrackBack ping me at:
https://www.kayakero.net/news/blosxom/file_16694757056627.trackback
Back to News and Updates