Back to News and Updates
Other parts of the site:
Search the blog:
Archive:
Pick a Random Month
Full Blog Archive
(This is all the blog posts in cronological order, rebuilt every night so may be up to 24 hours out of date. It's also a big file with lots of graphics; please be patient.)
Sat, 18 Dec 2021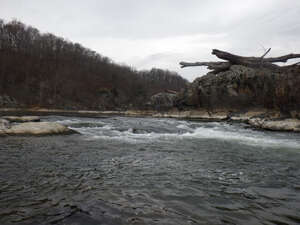 The day started pretty well…
After finishing up some household chores, I popped the canoe on car and headed towards Angler's Inn.
The traffic on the American Legion bridge was crazy bad and I made a huge detour south to go across Chain bridge.
At that point I was starting to think about just heading back home.
But I made the crazy detour and by the time I got to Anglers, there were parking places and I was ready to get on river.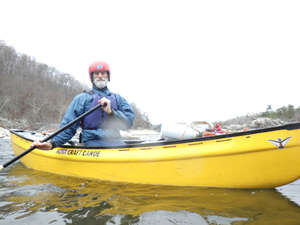 It was cloudy and cool.
But for December, it was great!
There were a few other folks out but not many and so it felt like I had the river to myself.
While the water level was low, I had fun.
A bit of surfing across the Maryland chute, and a bit of surfing across the Virginia chute.
And I was almost able to make the attainment up the center channel. Almost, but not quite.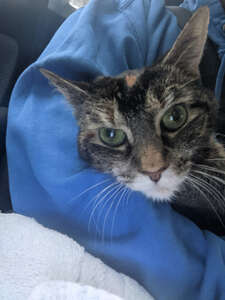 Then, when I got home Sarah came out to tell me that Pinker was not doing well.
She's been ill but hanging on for months; however, the last couple days, she's stopped coming upstairs and purring.
Sarah said she was just sitting all day with her head pointed to the wall.
It was time to say goodbye. A very sad trip to the vets office. But it was nice for all of us to be able to go.
Robert just held her in the back seat (and took this final photo).
She's been with us for just over a decade and she will be sadly missed.
I know her brother misses her as well. We'll be sad for while, but our lives were made better by having her a part of the last decade; we'll remember all the fun and joy she brought and enjoy her brother's company.
comments...
trackback (explanation)
TrackBack ping me at:
https://www.kayakero.net/news/blosxom/file_16398883563235.trackback
Back to News and Updates