Back to News and Updates
Other parts of the site:
Search the blog:
Archive:
Pick a Random Month
Full Blog Archive
(This is all the blog posts in cronological order, rebuilt every night so may be up to 24 hours out of date. It's also a big file with lots of graphics; please be patient.)
Sun, 17 Sep 2023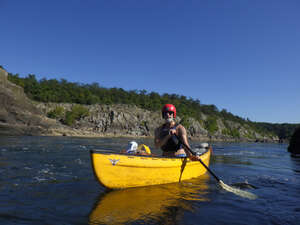 Splendid weather yesterday for getting out on the river.
Just about 80 degrees.
Blue Sky.
Cool water.
Still low water, though.
I took advantage of the weather to go up the gorge to Rocky Island — very low as you can see. But a great day to be out and about.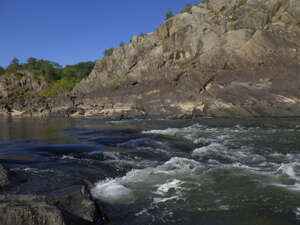 While I was at Rocky, I saw a couple slalom boaters attaining up the rapids. I wonder if they could attain Wet Bottom Chute. I portaged that and Anglers but both are short and easy to get up.
I could easily see attaining Anglers (with two paddle blades — that's my excuse). But Wet Bottom seems a lot harder to get up; I'll have to keep my eyes open there.
comments...
trackback (explanation)
TrackBack ping me at:
https://www.kayakero.net/news/blosxom/file_169497317924496.trackback
Back to News and Updates