Back to News and Updates
Other parts of the site:
Search the blog:
Archive:
Pick a Random Month
Full Blog Archive
(This is all the blog posts in cronological order, rebuilt every night so may be up to 24 hours out of date. It's also a big file with lots of graphics; please be patient.)
Mon, 28 Aug 2023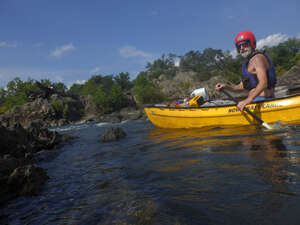 I got back on the river yesterday afternoon. But it's getting really low. I had trouble finding a route up to the Maryland chute.
Getting across to the Virginia chute was rocky.
And coming back the Maryland side, I had to push myself over some rocks to get past Golfball Island. There is starting to be little place to put a paddle into the water.
I expect we'll get some rain in the next few weeks the level will gradually start to rise again.
comments...
trackback (explanation)
TrackBack ping me at:
https://www.kayakero.net/news/blosxom/file_169325128316790.trackback
Back to News and Updates