Back to News and Updates
Other parts of the site:
Search the blog:
Archive:
Pick a Random Month
Full Blog Archive
(This is all the blog posts in cronological order, rebuilt every night so may be up to 24 hours out of date. It's also a big file with lots of graphics; please be patient.)
Mon, 14 Aug 2023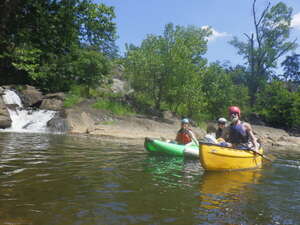 Pocket said she'd like to join us on the river this summer. It's taken until now for both Sarah and I to feel healthy — pesky summer cold.
So we paddled up to my new favorite selfie spot — but that rock ledge needs to be more level…
Our heron was further downstream for this trip.
comments...
trackback (explanation)
TrackBack ping me at:
https://www.kayakero.net/news/blosxom/file_169205521211134.trackback
Back to News and Updates