Back to News and Updates
Other parts of the site:
Search the blog:
Archive:
Pick a Random Month
Full Blog Archive
(This is all the blog posts in cronological order, rebuilt every night so may be up to 24 hours out of date. It's also a big file with lots of graphics; please be patient.)
Sun, 31 Oct 2021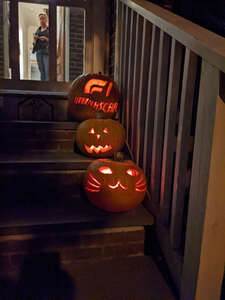 Guess who carved the F1 and NASCAR logos into their pumpkin this year?
Pretty cool — and excellent freehand work.
comments...
trackback (explanation)
TrackBack ping me at:
https://www.kayakero.net/news/blosxom/file_163573048231628.trackback
Back to News and Updates