Back to News and Updates
Other parts of the site:
Search the blog:
Archive:
Pick a Random Month
Full Blog Archive
(This is all the blog posts in cronological order, rebuilt every night so may be up to 24 hours out of date. It's also a big file with lots of graphics; please be patient.)
Sun, 12 Sep 2021
Robert's interest in racing (I blame Netflix's Drive to Survive) has been catching. He's broadened his sights from F1.
The dirt track we went to at the start of the summer was my first. And he's managed to get Sarah to go to a NASCAR race.
That turned into a Flower Show surprise which was a lot of high speed fun.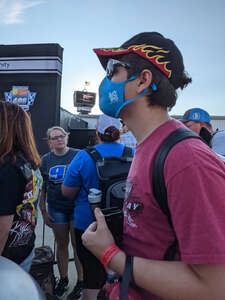 So it should not be too surprising that we trundled back down to Richmond and the Richmond Raceway for another race that I was able to enjoy.
This time there was no Covid attendance cap (even though the Delta Variant is still very much with us). So we wore masks inside, and outside when crowded.
But it's really an outside event so that did not seem like a big risk.
Saturday was the 20th anniversay of 9/11 so the race was dedicated to those lost that day 20 years ago, the first responders assisting the injured and the military who just stopped fighting the War on Terror.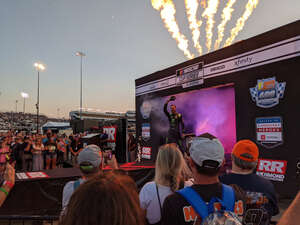 And it was a double header: an Xfinity series afternoon race and Cup series night right.
Sarah did us well getting the infield passes.
We got to see the cars up close, watch the award for the Xfinity series, the driver introductions for the Cup series and Robert snagged two cool autographs (as him who and he'll gladly share).
comments...
roterb wrote

the first signature is from rajah caruth, soon to be xfinity driver that wtop reported on as a local-ish driver. second signature was michael mcdowell, the most recent daytona 500 winner and the widely agreed upon worst driver in the playoffs(but he's cool cause I got a signature and a autograph)
trackback (explanation)
TrackBack ping me at:
https://www.kayakero.net/news/blosxom/file_163147307527710.trackback
Back to News and Updates