Back to News and Updates
Other parts of the site:
Search the blog:
Archive:
Pick a Random Month
Full Blog Archive
(This is all the blog posts in cronological order, rebuilt every night so may be up to 24 hours out of date. It's also a big file with lots of graphics; please be patient.)
Sun, 01 Aug 2021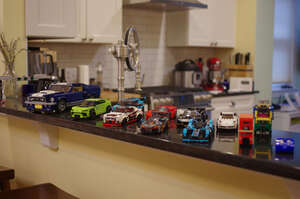 Or, the collection as of now…
Most are Robert's but there are a couple snuck in that Sarah or I built.
Robert felt it would be best to leave off the London bus and tuktuk, but I felt it adds to the variety.
Not all this year, but mostly from this year. The mustang at the back is clearly most impressive.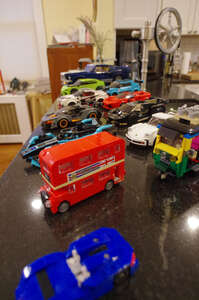 Perhaps some ideas for Christmas…
comments...
trackback (explanation)
TrackBack ping me at:
https://www.kayakero.net/news/blosxom/file_162784188015134.trackback
Back to News and Updates