Back to News and Updates
Other parts of the site:
Search the blog:
Archive:
Pick a Random Month
Full Blog Archive
(This is all the blog posts in cronological order, rebuilt every night so may be up to 24 hours out of date. It's also a big file with lots of graphics; please be patient.)
Sat, 12 Dec 2020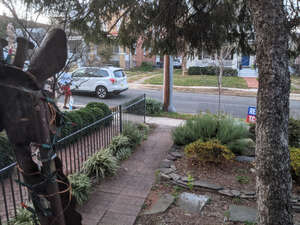 George the giraffe (done up with Christmas lights) watches as Robert takes his first solo trip in the car. He hoped to catch up with Will at the volleyball court but…
Will couldn't get away and there was no good parking on Union street by the beach volleyball court.
Still, first solo driving trip (I only checked-in on Google Maps three times to see where he was and what he was up to).
comments...
trackback (explanation)
TrackBack ping me at:
https://www.kayakero.net/news/blosxom/file_160781334217671.trackback
Back to News and Updates