Back to News and Updates
Other parts of the site:
Search the blog:
Archive:
Full Blog Archive
(This is all the blog posts in cronological order, rebuilt every night so may be up to 24 hours out of date. It's also a big file with lots of graphics; please be patient.)
Mon, 07 Sep 2020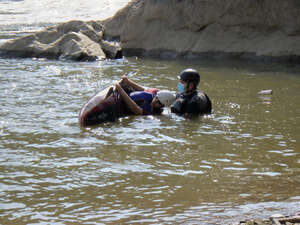 Miguel, who Sarah found through Potomac Paddle Sports was great. Robert had a couple rolls — not when I happened to be there, alas.
And he's feeling better about a hard shell boat. He was saying on Saturday that he thought a hard shell would be more fun to play in the waves with. And now he's well on his way…
Short video of an assited roll
.
comments...
trackback (explanation)
TrackBack ping me at:
https://www.kayakero.net/news/blosxom/file_15995257011876.trackback
Back to News and Updates