Back to News and Updates
Other parts of the site:
Search the blog:
Archive:
Pick a Random Month
Full Blog Archive
(This is all the blog posts in cronological order, rebuilt every night so may be up to 24 hours out of date. It's also a big file with lots of graphics; please be patient.)
Fri, 15 May 2020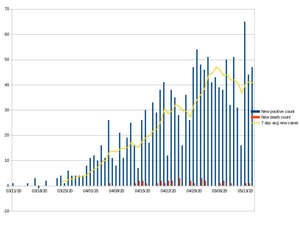 … So maybe the 7 day average is bending the right way.
Too early to tell.
But, we have a new way to pass the stay-at-home time:
Night badminton with the cool LED shuttlecocks that Sarah found.
The neighbors (best neighbors ever) put up a badminton net. And Sarah found the LED shuttlecocks.
So…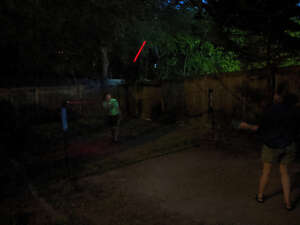 … Our new way to pass the time while we wait out the coronavirus.
Virginia is starting to re-open, except for our part. But maybe the chart is starting to trend the right way for Alexandria… Check back in a week or so.
comments...
trackback (explanation)
TrackBack ping me at:
https://www.kayakero.net/news/blosxom/file_15895980877345.trackback
Back to News and Updates