Back to News and Updates
Other parts of the site:
Search the blog:
Archive:
Pick a Random Month
Full Blog Archive
(This is all the blog posts in cronological order, rebuilt every night so may be up to 24 hours out of date. It's also a big file with lots of graphics; please be patient.)
Thu, 07 May 2020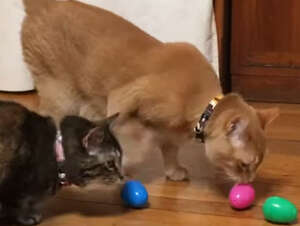 What happened was…
Our friend Jenny took some video of Pinker and Panzer hunting for treats in Easter eggs (that was P.R: pre-remodel). Then the Lanes moved away (which made us sad).
Jenny's business
picked up and now:
They have starting roles (well, sort of) in one of her videos (about three and half minutes in, if your not a dog person).
Check out Synergy Animal Behavior's YouTube for more.
comments...
trackback (explanation)
TrackBack ping me at:
https://www.kayakero.net/news/blosxom/file_15888990491399.trackback
Back to News and Updates