Back to News and Updates
Other parts of the site:
Search the blog:
Archive:
Full Blog Archive
(This is all the blog posts in cronological order, rebuilt every night so may be up to 24 hours out of date. It's also a big file with lots of graphics; please be patient.)
Tue, 10 Mar 2020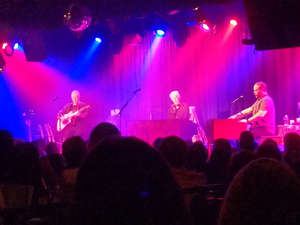 As a belated Anniversary present, Sarah and I went to see Graham Nash at the Birchmere. It was great show full of familiar ballads we've both loved.
And the audience singing Teach Your Children was a fanatastic way to end to the evening.
On a serious note, it was an excellent reminder how messed up the country and world has been before, and we made it past those times; I'm sure we'll make it past these times.
comments...
trackback (explanation)
TrackBack ping me at:
https://www.kayakero.net/news/blosxom/file_158389457124314.trackback
Back to News and Updates