Back to News and Updates
Other parts of the site:
Search the blog:
Archive:
Full Blog Archive
(This is all the blog posts in cronological order, rebuilt every night so may be up to 24 hours out of date. It's also a big file with lots of graphics; please be patient.)
Mon, 03 Feb 2020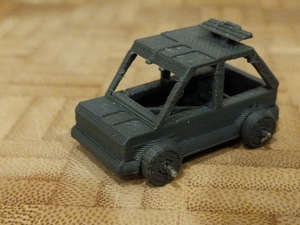 Robert had an assignment in
Engineering Explorations II; Robtics
to design a car, draft it in a CAD program and then have it 3D printed.
It looks really cool to me!
This is actually a bit small for the track so he has scaled up the CAD file and will get a new print out. (For comparison, the axles — not printed — are paper clips.)
It's a crazy world when you can print a model car…
comments...
trackback (explanation)
TrackBack ping me at:
https://www.kayakero.net/news/blosxom/file_15807883543450.trackback
Back to News and Updates