Back to News and Updates
Other parts of the site:
Search the blog:
Archive:
Full Blog Archive
(This is all the blog posts in cronological order, rebuilt every night so may be up to 24 hours out of date. It's also a big file with lots of graphics; please be patient.)
Sun, 17 Nov 2019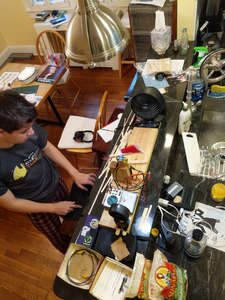 … Science Fair time, that is.
This year Robert is tracking what's the most efficient angle for your windmill blade.
The anemometer is new for this test, but the VOM is one I built probably 40 years ago. So, on average, we're just using things we've had around for awhile. (The motor / generator was from last year's fan powered car classroom experiment.)
It's a lot faster to get data from this experiment compared to last year's argon soaked wetsuit.
comments...
trackback (explanation)
TrackBack ping me at:
https://www.kayakero.net/news/blosxom/file_157401475931915.trackback
Back to News and Updates