Back to News and Updates
Other parts of the site:
Search the blog:
Archive:
Full Blog Archive
(This is all the blog posts in cronological order, rebuilt every night so may be up to 24 hours out of date. It's also a big file with lots of graphics; please be patient.)
Sun, 10 Mar 2019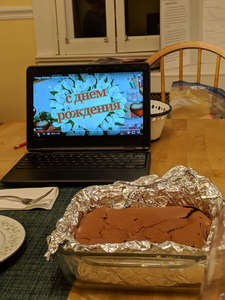 Thanks to Twitter cluing us in, we celebrated
Yuri Gargarin's
birthday last night with a bit of cake and Happy Birthday in Russian.
Always good to have an excuse for cake, and when the excuse is tied to space exploration, that's even better!
Happy Birthday, Yuri, "Let's go!!!"
comments...
trackback (explanation)
TrackBack ping me at:
https://www.kayakero.net/news/blosxom/file_155226153616220.trackback
Back to News and Updates