Back to News and Updates
Other parts of the site:
Search the blog:
Archive:
Pick a Random Month
Full Blog Archive
(This is all the blog posts in cronological order, rebuilt every night so may be up to 24 hours out of date. It's also a big file with lots of graphics; please be patient.)
Mon, 29 Oct 2018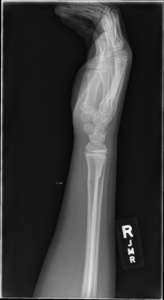 Handball in PE injury: fracture on Robert's right wrist. That would surely have taken him out of the volleyball rotation.
We see the ortho doctor tomorrow who will tell us if he keeps the splint he has or gets a hard cast.
comments...
trackback (explanation)
TrackBack ping me at:
https://www.kayakero.net/news/blosxom/file_154085673420907.trackback
Back to News and Updates