Back to News and Updates
Other parts of the site:
Search the blog:
Archive:
Pick a Random Month
Full Blog Archive
(This is all the blog posts in cronological order, rebuilt every night so may be up to 24 hours out of date. It's also a big file with lots of graphics; please be patient.)
Sun, 21 Oct 2018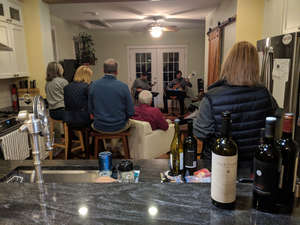 Sarah did another great thing: she signed us up to host a Groupmuse concert. You offer to open your house, ask friends to come by (or they will fill out with neighbors) and yoiu get a private concert.
It was fantastic!!! Joel Michael-Schwartz on mandolin and Todd Shelar on guitar were a lot of fun to listen to, meet and get to know. We recommend others sign up (or come by the next time we host). It's a great evening.
(Also, a very nice way to enjoy the work recently done on the house.)
comments...
trackback (explanation)
TrackBack ping me at:
https://www.kayakero.net/news/blosxom/file_15401721687681.trackback
Back to News and Updates