Back to News and Updates
Other parts of the site:
Search the blog:
Archive:
Pick a Random Month
Full Blog Archive
(This is all the blog posts in cronological order, rebuilt every night so may be up to 24 hours out of date. It's also a big file with lots of graphics; please be patient.)
Sat, 20 Oct 2018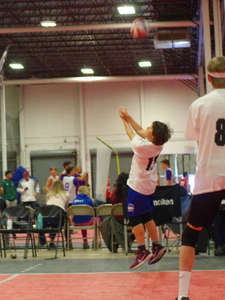 The Titans only had 5 players for the games this afternoon but they split the matches. With only 5 players, not substitutes; everyone played the whole time. Robert's serves are greatly improved from the start of the season and here he's doing a great job here keeping the ball alive for a Titan score.
Sarah is looking for rec leagues to pick up when the school season ends next week.
comments...
trackback (explanation)
TrackBack ping me at:
https://www.kayakero.net/news/blosxom/file_154008135411974.trackback
Back to News and Updates