Back to News and Updates
Other parts of the site:
Search the blog:
Archive:
Pick a Random Month
Full Blog Archive
(This is all the blog posts in cronological order, rebuilt every night so may be up to 24 hours out of date. It's also a big file with lots of graphics; please be patient.)
Mon, 01 Nov 2010
Halloween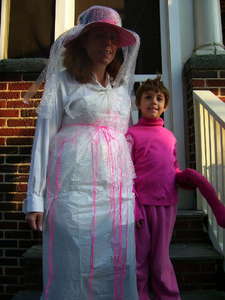 Sarah the jellyfish and Robert the Pink Panther (wiskers applied later, ears MIA) before going to a pre-trick-or-treating cocktail party. I was especially proud to overhear Robert explaining to a friend how you make your costume, you don't buy it.
We'll see how many trick-or-treaters we get; often very few here…
comments...
SZap wrote

Wow, nothing like a garbage bag get up to make you look less svelt. I'm going for as Sooki next year.
trackback (explanation)
TrackBack ping me at:
https://www.kayakero.net/news/blosxom/file_128856035325050.trackback
Back to News and Updates