Back to News and Updates
Other parts of the site:
Search the blog:
Archive:
Full Blog Archive
(This is all the blog posts in cronological order, rebuilt every night so may be up to 24 hours out of date. It's also a big file with lots of graphics; please be patient.)
Tue, 24 Jul 2007
And an early trip home…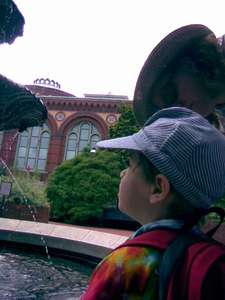 After the daycare birthday party, Robert and I met up with Sarah at the carousel and then headed home early. This was the third fountain of the trip back. We saw one in the courtyard of the Justice Department, one in the sculpture garden, and this one the little path next to the Smithsonian's Arts and Industries building.
comments...
trackback (explanation)
TrackBack ping me at:
https://www.kayakero.net/news/blosxom/file_118531988120246.trackback
Back to News and Updates