Back to News and Updates
Other parts of the site:
Search the blog:
Archive:
Full Blog Archive
(This is all the blog posts in cronological order, rebuilt every night so may be up to 24 hours out of date. It's also a big file with lots of graphics; please be patient.)
Mon, 16 Jul 2007
Muffin snack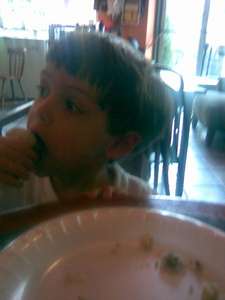 This is the last of Robert's muffin snack. Actually, I ate most of it, after a banana and some scrambled egg — he didn't eat any of the bagel, he was not too hungry for blueberry muffin.
And there was the excitement of the traffic accident in front of the Uptowner to distract him as well…
comments...
trackback (explanation)
TrackBack ping me at:
https://www.kayakero.net/news/blosxom/file_11846031514408.trackback
Back to News and Updates