Back to News and Updates
Other parts of the site:
Search the blog:
Archive:
Full Blog Archive
(This is all the blog posts in cronological order, rebuilt every night so may be up to 24 hours out of date. It's also a big file with lots of graphics; please be patient.)
Mon, 02 Jul 2007
Turtles…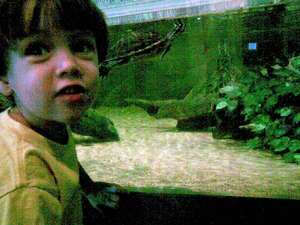 I think I can start a series of these photos of Robert staring into aquarium tanks. This is (courtesy of my cell phone camera) from his class visit to the National Aquarium. I got to go along as a chaperon today. All the kids seemed to have a great time (even though it's a bit small when compared to the Baltimore Aquarium we've been to a couple of times.
comments...
trackback (explanation)
TrackBack ping me at:
https://www.kayakero.net/news/blosxom/file_11834266878266.trackback
Back to News and Updates