---
Other parts of the site:
Search the blog:
Archive:
Pick a Random Month
Full Blog Archive
(This is all the blog posts in cronological order, rebuilt every night so may be up to 24 hours out of date. It's also a big file with lots of graphics; please be patient.)
Oct 09, 2016
The Fleet Continues to Grow
last update: 10/09 @ 15:32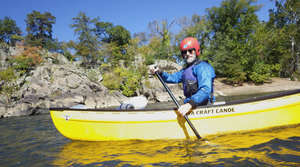 I decided it was time to take the plunge into a solo canoe; Robert is in his own boat now and the Esquif outfitting for 1 is OK but it's really kind of big.

At least, that was my thought before getting this shiny Ocoee. It's only been on the water once and I was getting more comfortable in it after a couple hours. But I'll need a couple more hours before I'm ready to really make up my mind about this.
(0) Comments -- permanent link
Edit this (owner only)
---
Add new entry (owner only)
The posts on this page will slowly roll off as new ones are added to the top. The "permanent link&quot links above will take you to one post's permanent address; that should not change or disappear. You can also build up a link to see any month's postings by adding the four digit year, a slash, the two digit month and a trailing slash to the the main www.kayakero.net/news/blosxom URL. Like this:
/news/blosxom/2004/08/. (You can go down to the day level if you like.)
Only the site owners can edit this page (and all attempts to do so are logged); however anyone is welcome to add a comment using the "comments" link below each posting.