---
Other parts of the site:
Search the blog:
Archive:
Full Blog Archive
(This is all the blog posts in cronological order, rebuilt every night so may be up to 24 hours out of date. It's also a big file with lots of graphics; please be patient.)
Apr 17, 2011
Fort Washington
last update: 04/17 @ 21:18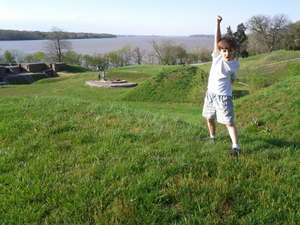 The Nationals game was great and the weather was so nice we decided to check out Fort Washington on the way home (metro was doing track work and we were meeting folks so we opted to drive to the game). We've seen Fort Washington from Mount Vernon several times and keep talking about going. Robert saw the sign and asked if we could check it out.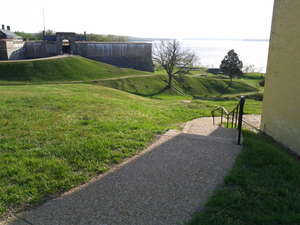 We've been plotting a canoe trip to storm the castle (well, fort) for a while now. But we'll wait until after the flood waters and storm chop are down a bit. It's a very pretty place, made even more so by the spectacular weather today.

Who knew there was a drawbridge so close to DC? (I mean other than the Woodrow Wilson bridge for I95…)
(0) Comments -- permanent link
Edit this (owner only)
---
Add new entry (owner only)
The posts on this page will slowly roll off as new ones are added to the top. The "permanent link&quot links above will take you to one post's permanent address; that should not change or disappear. You can also build up a link to see any month's postings by adding the four digit year, a slash, the two digit month and a trailing slash to the the main www.kayakero.net/news/blosxom URL. Like this:
www.kayakero.net/news/blosxom/2004/08/. (You can go down to the day level if you like.)
Only the site owners can edit this page (and all attempts to do so are logged); however anyone is welcome to add a comment using the "comments" link below each posting.