Tyler Genealogy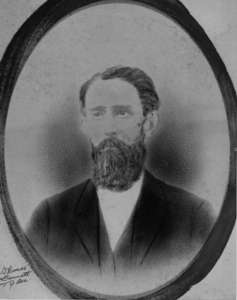 Al Brodie provided a Tyler Family history fleshing out some of the Tyler portions of The Williams and Tyler Families. Part one of this is the Tyler Family addedum to that account. Part two follows the family down Norris Tyler and his children. Al sent scanned pages that I've tried to convert to text -- I take full credit the typos introduced in that process.
And in April of 2009, Al announced his book William and Ann Cater Tyler and Some Of Their Descendants 1604-2008. The book is hard cover bound, 250 pages, lots of photos and is fully indexed; it provides extensive coverage of the Thomas Bennett and Rachael Elizabeth Corbitt Tyler line. Contact Al for more information (brodiehouse (at) pbtcomm (dot) net -- please replace the at and dot with the correct punctiation for an email address).
Al Brodie
Box 425
Wagener, SC 29164
803-564-3498
brodiehouse (at) pbtcomm (dot) net

Al also provided this photo to Thomas Bennett Tyler along with a few more photos available on the gallery page.
Al provides this credit on the last page:
Most of this historical data on TYLER FAMILY was compiled by Lowman W. Tyler and Bessie Lee Garvin. I have just pulled this together and hope to run lines of Thomas Bennett and Rachel Elizabeth Corbitt Tyler as completely as possible.
Beth Newburn provided a list of descendents of William Tyler, Sr.. Note in her generation 4 the marriage of Catherine Annie Tyler and Braxton Bragg Williams -- more detail in The Williams and Tyler Families.
Charles Tyler happened across the web site and sent these notes looking for others who have taken the Y chromosome DNA test.
4/2/2014
My paternal lineage tree starts with Joseph Tyler Sr. 1777-1853. He is on the same page with as William Tyler on the census for Orangeburg District. William and Joseph also both witnessed William Greens will back in 1809. Documents over the years say Orangeburg district, than Barnwell, upper Three runs creeks, Millbrook township and Winder post office.
Have any of the Tyler males on your side done a Y chromosome lineage test??? It sure would help me rule that connection out.
4/13/14
My father's uncle married Fannie Grey Tyler from Wagner so someone gave him a copy of the that book [Al's book mentioned above]. I also had some Facebook conversation with Tyler Tire. She says they are also from Wagner. I have done a tree on the Wager Tyler Tree side also but when you get back to 1800 and before things get unreliable. A Y DNA of a male descendant is a good tool to rule out or in a connection between the different groups.
You can reach Charles at: ctyler (at) tyler-construction (dot) com
---
Home | Personal | Professional | News and Updates | Robert | Vacations | Genealogy | Search