From the wedding pages.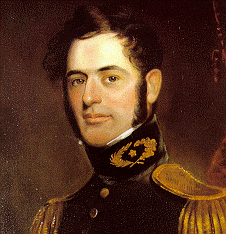 David's Great- Great- Great- Great- Grandfather, Robert Hendry, married Ann Lee, sister of "Light Horse" Harry Lee and Aunt of Robert E. Lee. That relationship, we think, makes David a cousin of Robert, making the wedding site "Cousin Bobby's." (For a different take on this see the history of Ann Lee, which agrees with all the details (and fits well with other Hendry family history) save one: no mention of Ann's father or her relationship to "Light Horse.")
Robert Hendry, son of the hatter John Hendry of the Isle of Arran in Scotland, immigrated to the U.S. in 1770 after being on the wrong side of the "Bonnie Prince Charlie" uprising. While serving under "Light Horse" Lee during the American Revolution, he met Lee's sister Annie (OK, I'm assuming he met her during his time in the army).
--Courtesy of Leland Williams (typos and misconceptions by David)
A 5 minute history of Robert E. Lee.
The above version is backed up by A Brief History of the Hendry Family in the South by Rev. John Littleberry Hendry (1854-1934). However, I contacted Ruth Hendry who received a letter from Henry N. Lee of Lumberton, NC in 1985 stating "We think your Ann (Lee) Hendry is really of the line of a Thomas Lee who received a land grant of several thousand acres in Onslow County." Mrs. Hendry also sent along a copy of the Lee family linage from Tidewater Dynasty, a Biographical Novel of the Lees of Stratford Hall which shows a sister to Light Horse Harry named Anne, but being born in 1776 (making her 2 years old at the marriage in 1778.
The Anne Lee who married Robert Hendry was born December 26th, 1753 (or 1752) and died in 1857. But Mrs. Hendry goes on to state, "I'm sure she was kin because of the stories that have been passed down, but not as close as a sister." More investigation is clearly needed.