| | |
| --- | --- |
| | All is right with the world. The wedding came all almost flawlessly -- flawless is bad luck. We had a chance to visit with folks and they had the time to visit with each other; food and wine flowed and in the end Sarah and David were pronounced legally married (note the rings on the left hands, somewhat hidden in this photo). |
First and foremost, we would like to thank everyone who made the trek to Alexandria to witness and help celebrate our wedding. We both truly appreciate the time people took out of busy holiday schedules to join us.
The weather was perfect (you can't ask for such nice weather in late November around here, but if you get it, you have to enjoy it to the fullest). The sun was shining and so were our hearts.
| | |
| --- | --- |
| Gus the piper piped the procession down the aisle and helped us celebrate after the wedding as well. There was even a special tune, Flowers of the Forest, which Gus played to honor the family and friends who couldn't be at the wedding. | |
| | |
| --- | --- |
| | Sarah was proceeded down the aisle by her "best babe" Suzanne Hough, who was a great help in all the planning (she hosted a shower), and execution (she made the veil). |
| | |
| --- | --- |
| David, meanwhile, watched Sarah looking stunningly beautiful as she walked out of the shadows and towards him in the glowing sunlight. | |
Both, David and Sarah were a bit nervous about our lines (we had been practicing saying, "I do," only to see the actual line in the service is, "I will") and trying to remember which hand is the left and which the right.
Gardner, however, did a great job of keeping us moving and prompting us through the service.
| | |
| --- | --- |
| We did have some trouble with the delicate maneuver of holding the other's left hand with our left hand, slipping the (somewhat tight ring) on the correct finger with the right hand while repeating a solemn vow to love, honor and cherish our (soon to be) spouse. | |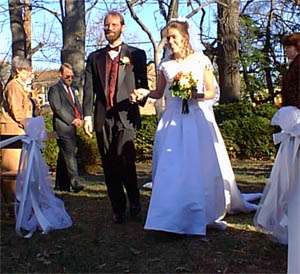 In the end, we were married and exceptionally happy to be so blessed. It was the capping moment to a great week of visiting and partying and marks the beginning of a fantastic journey that we both feel extremely lucky to be able to make -- sharing our lives with each other.
Photos by Robin Duggar. For more pictures, see the wedding album.
The buttons on the left link to ideas for out-of-towners; travel directions and information; weather information -- currently we are not expecting snow; a very brief genealogy of the bride and groom; additions to the 503 E. Nelson household; the origins of this wedding (how we met); back to this page; and the latest news -- in this case the 2000 tax day letter. The 1999 tax day letter is here, and the July, 99 trip is here.