A Memorial
of
Celebration and Thanksgiving
for the life of
Lois Lorraine Zapolsky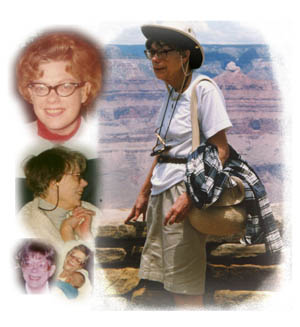 Lois

Born in 1928, in East St. Louis, Illinois, Lois Lorraine Steff was the only child of Augustus and Ida (Becker) Steff. Her parents were descendants of the Dutch, German, and Irish settlers who populated southern Illinois in the middle of the last century. Her mother was a devout Catholic and her father an outspoken agnostic whose views Lois later came to adopt. At the age of seventeen she took mischievous delight in announcing to her friends that her parents were finally getting married (in a church wedding). Her lack of religious devotion in no way deterred her from acquiring a deep appreciation of the art and music of the church and she probably attended mass at one time or another at all of the major cathedrals in this country and Western Europe.

In 1946, she entered Southern Illinois University on a teaching scholarship. After one year of sorority life, she realized that if she stayed at "Southern" she would probably end up marrying one of the many WWII veterans returning to college, so she left Carbondale. In order to fulfill her scholarship obligation, she taught for a year in a one-room schoolhouse near Belleville, Illinois, where, in her words, "as the sole teacher in the area, I was responsible for 14 children in the first eight grades, as well as for the school curricula, recreation programs, and school reports; wrote and produced holiday entertainment to be presented by the children to this farming community; maintenance, gas lights, pump (only source of water), and almost everything else, most of it surprising and unexpected, that might arise in a little red school house in the country." Her strongest recollection of that year was that she discovered Arnold Schoenberg's "Verklarte Nacht" and was threatened with eviction from the farmhouse where she roomed because she insisted on playing it over and over again on her Victrola.

The following year she left Illinois to take her chances in Washington DC. After a short stint in the Pentagon, her great skill with words landed her a job as a code clerk in the State Department, where she served successive two-year terms in the Hague, Netherlands and New Delhi, India. After returning to the US, and occupying several positions in the Patent Office and the Department of the Navy, in 1956 she became a congressional aide to Representative Mel Price of East St. Louis. When he became one of the chief advocates for building a nuclear airplane, and she could no longer take him seriously, she managed to switch over to the newly founded National Aeronautics and Space Administration (which in those days was taken seriously). When NASA established its Institute for Space Studies in New York City she moved there as its administrative assistant, and that is where we met when I took up my first post-doc appointment in 1962. We married that year, David was born the following year, we moved to Maryland, and Sarah was born in 1966. For the next 10 years, Lois's remarkable talents were devoted full time to raising our children, and anyone who knows them will testify to the outstanding success of that project.

When we arrived at Rutgers in 1973, the children were old enough that Lois could seriously consider resuming a career. She had always regretted not getting her college degree, and had accumulated a number of additional credits over the years at Georgetown, Columbia, and NYU. In 1974 she enrolled as a History major in Douglass College, and in 1977 she received a Bachelor's degree with High Honors. She accomplished this without taking one single course outside of the History Department, much to the astonishment, if not chagrin, of her advisors, and she was always proud that, so far as anyone knew, this feat was unprecedented. One year she took a graduate seminar course from the Vice-President of the University, who was also a distinguished historian. As Department Chair at the time, I also interacted with him, and he took great joy in introducing us at social events as "the smart Zapolsky and her husband." During her years at Douglass, Lois was an active member of the Sophia Club, which is a support group for older women returning to school, and she received enormous encouragement from this group. The children and I feel that the prize we have endowed to this group in Lois's name is the most appropriate possible way of memorializing her, and we are absolutely certain she would be delighted with our decision.

After graduating, Lois took up a number of short term positions in order to help pay college tuition, but she never found anything really challenging. She ended her working career as assistant to the Dean of Students at UMDNJ medical school, where she acquired her often justified fear of emerging young physicians. When we came to the happy realization that tuition payments had finally stopped, we decided to treat ourselves to some of the things we had sacrificed. Lois was a great fan of legitimate theater and the opera, and we went to New York frequently. Over the past ten years, we were able to take extended trips to Alaska, Quebec and the Maritime Provinces, Turkey, the Netherlands, Ireland, Spain, Italy (twice), London(twice), and Scotland, as well as a six week drive through the Western US, and of course many trips to Washington DC and Seattle to visit our children and grandchild. Just this past May we spent two weeks in London, where we were either at the theater or a concert almost every single night. Lois also stayed active in local groups. In spite of her opposition to Rutgers' designs on big time professional athletics, she remained in the Women's League of Rutgers University and served last year as its Secretary. She was a Friend of the Zimmerli Museum, and a Friend of the New York Public Library. The highlight of her weekly schedule was the Highland Park Book Club. It has been described by the librarian as "that Tuesday morning meeting where all the ladies come in and shout at each other," and from what Lois told me, she was one of the loudest shouters.

Lois developed congestive heart disease about twenty years ago, and although there were 'incidents' along the way, she always managed to bounce back and stay active. The word invalid had no place in her vocabulary. She would occasionally walk with a cane, but she used it more like an exercise machine than a support. At the beginning of July she suffered a severe attack, and although she returned from the hospital, she never really recovered. She was hospitalized again in September. When symptoms of renal failure were diagnosed, she rejected medical treatment which might have prolonged her life at a cost to its quality that she felt was way too high. Although I agreed with her decision, it was still painful to lose her. She died in her sleep on October 7, 1998.
Harry
---
A word about these pictures...

These are two of my favorite pictures of Lois, but they need some explanation. They were taken in May of 1997, when we spent several weeks in Venice, Italy. The first picture shows her in typical tourist mode, near the Campo dei Frari, close to the flat where we stayed. It is included for calibration purposes. The second one is obviously quite different. After our first 36 hours in Venice, our third (and final) piece of luggage arrived. In order to celebrate that welcome event, we decided to dine out at one of the tonier restaurants near San Marco. We finished dinner at about 11:00 (on a Sunday night) and strolled over to the grand Piazza, where bandstands line the long corridor of the square in front of the coffeehouses. Even though there were only a few people around, the orchestras were engaged (at full throttle) in their customary nightly "war". When I took the picture, the band in front of Florian's had just swung into the opening bars of Glenn Miller's "In the Mood", a song we had both learned to dance to when we were teenagers. That is not a grimace on Lois's face, but rather a shriek of pure joy, as she broke into a little dance. Seconds after I snapped the shutter, we were dancing in each other's arms across the piazza, joined by several neighboring couples who followed our lead.
---
In honor of Lois, the Zapolsky family has established a prize for women returning to college; they have asked that in lieu of flowers donations be sent to:
The Associate Alumnae of Douglass College
181 Ryders Lane
New Brunswick, NJ 08901-8557

For the Lois Zapolsky Sophia Prize for Returning Undergraduate Women in History or Leadership.